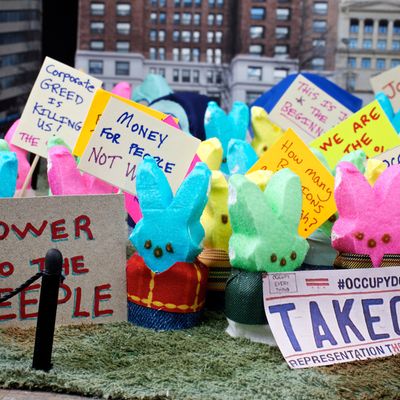 Peeps protesting the rumors that the Washington Post would cancel its annual diorama contest.
Photo: Deb Lindsey/The Washington Post/Getty Images
Even in these complicated political times, there are certain cherished traditions that are fundamental to life in Washington, D.C. The cherry trees blossoming in the spring, perhaps, or the Washington Post's annual Peeps contest, wherein readers submit dioramas that feature the technicolor marshmallow candy.
Alas, today, the powers that be announced the Peeps contest is no more.
Over the last decade, D.C. residents have gone nuts for the contest, submitting a deluge of Peeps in all manner of scenarios: NASA Peeps, Occupy Peeps, ancient Egyptian Peeps, Peeps inside Donald Trump's brain. Peeps on Peeps on Peeps. Just last year, the Post's editors called it "one of the most beloved traditions" at the newspaper, "where zeitgeist meets confection in an explosion of color and camp."
Earlier today, though, a rumor appeared on social media that this year's explosion of camp and color would be called off. It wasn't long before the contest's former "unofficial impresario" Dan Zak confirmed the news.
After Grub Street got in touch with Zak, he responded, somewhat optimistically, "I have no further comment, other than I expect American creativity to endure."
Still, the reasons were unclear until the paper's PR published a missive from the Post magazine deputy editor David Rowell, who explained the contest situation thusly:
Hard journalism this was not, but for us the contest offered its own sweet rewards. As fewer submissions began to come in, though, echoing the decline in readership of this feature, we knew that it was time to let bunnies be free again, and we have ended the Peeps contest run.
All hope is not lost for American creativity, though. Seeing an opportunity to undermine a competitor, the editor of the Washington City Paper tweeted this note: