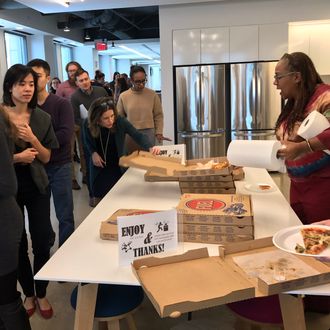 Some happy journalists.
Photo: Gene Park / Twitter
Some things are better than Pulitzers: Tons of free pizza showed up yesterday in the Washington Post newsroom as part of a crowdfunded thank-you by a GoFundMe campaign created to recognize the paper's "extraordinary work during the first weeks of the Trump administration." Post journalists wasted no time showing gratitude by posting pictures of themselves mid-bite, including three of the writers (David Fahrenthold, Robert Costa, and Rosalind Helderman) who spend a lot of their time covering a man who believes they're "the enemy of the American People."
Pizza for the Newsroom, as the GoFundMe effort is called, was started by ex–Atlanta Journal-Constitution reporter Kevin Austin, under the auspices of feeding those with a track record of protecting a free press in these very dark times. The Post and New York Times were supposed to be the only two recipients — but Austin's original goal of $2,000 ballooned into $7,800, so he had to find a few extra newsrooms. The 20 new additions read like Sean Spicer's fantasy press-briefing blacklist: CNN, Politico, Glenn Greenwald's site the Intercept, and the Advance, the paper stuck reporting in Trump-loving Staten Island.

Post staff got a memo from deputy managing editor Tracy Grant that said: "A little pizza, a little March Madness all while working in the greatest newsroom on the planet: what's not to love?" Grant tells the Washingtonian that the pizza was "a nice gesture by a group of readers" that also (in case the White House is wondering) "was well below any gift threshold."
It's not clear when the rest of America's newsrooms can expect their pies, but the GoFundMe donors aren't the only people giving tasty rewards to media singled out by the Trump administration. Tom Hanks, you'll recall, gifted the White House press corps an espresso machine a couple weeks ago:
He stuck a note on it that read:

To the White House Press Corp

Keep up the good fight for Truth, Justice, and the American Way.

Especially for the Truth part.

Tom Hanks