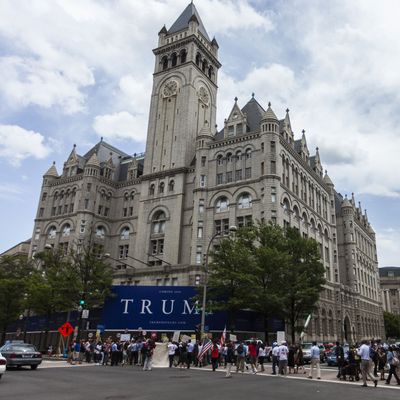 Photo: Anadolu Agency/Getty Images
It's easy to lose track of the many things critics have fretted over during President Donald Trump's administration. Like, say, the Trump International Hotel in Washington, D.C.'s federally owned Old Post Office building. It has been doing brisk business with foreign diplomats and other politicos, voyeurs who want to see the president smother a $54 steak in ketchup, and special-interest groups like Big Candy, all of whom are looking to gain favor. (Presumably, those looking to sway Trump have come bearing Heinz.) The owners of at least one D.C. restaurant, Cork Wine Bar, say the benefits for the hotel come at the expense of the rest of the industry. On Wednesday, the Washingtonian reports, Cork owners Khalid Pitts and Diane Ross filed an unfair-competition lawsuit against Trump and the Trump International Hotel.
Cork hosts political fundraisers and international law firms, as many restaurants in the city do, but one of its attorneys, Scott Rome, tells the Washingtonian that the restaurant has seen "significantly less income" since Trump became president. That's because, Rome argues, lobbyists, government officials, and anyone else seeking influence with the administration "feel pressure" to go to the Trump International Hotel. The fact that the president shows up on the weekends only further handicaps the matchup, with Rome telling the magazine, "it seems to us to be a clear situation in which he's using his office of the president to get a financial gain at the expense of local businesses."
It's been argued that Trump breached his hotel lease with the General Services Administration by becoming president, and the restaurant's attorneys point to a specific clause they believe will make this case. Specifically, it states that no elected official should gain "any benefit" or have "any share" from the agreement. Rome — who is working pro bono alongside Mark Zaid, who has brought lawsuits against previous administrations — says the goal is to put an end to Trump's unfair advantage, and that this isn't being done just to stir things up. They're not seeking any money out of it, but Rome and his fellow lawyers are looking for other plaintiffs to join in the lawsuit.