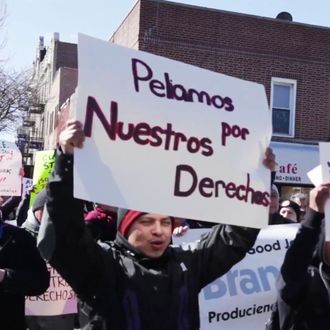 One worker at the recent rally.
Photo: Brandworkers
With ICE raids on the rise, most undocumented workers understandably now follow a strict policy of leaving at even the whiff of trouble. But employees at New York City's oldest artisanal bakery, Tom Cat, have decided to fight the Feds' threats instead. A few weeks ago, they learned their employer, an official James Beard House bread provider that also bakes for hundreds of businesses around town, had been targeted by a Department of Homeland Security audit. Agents gave Tom Cat ten days to provide updated I-9s for 31 workers whose legal status was in doubt.
Tom Cat's HR informed this crew that they were "considered by the Homeland Security Investigations to be unauthorized to work," and their response was to take the letter public and protest in front of the Queens facility. (An unusually ballsy move. For some perspective, the last time the Feds did an audit like this, FreshDirect lost 40 employees overnight.) A lot is on the line for them, but they argue the risk is worth it, since most have worked at Tom Cat for over a decade, and need to support families in New York and in their home countries. Labor advocacy group Brandworkers stepped in with aid, the Urban Justice Center Community Development Project has taken the case up pro bono, and a lot of city politicos have promised backing. In her statement, City Council speaker Melissa Mark-Viverito called the mess "yet another example of the toxic atmosphere caused by the efforts of this presidential administration to demonize law-abiding immigrants with deep ties to the community."
Brandworkers already put out a fairly optimistic statement saying that workers "look forward to many more years working with Tom Cat Bakery." Things are less simple for Tom Cat, since the bakery could face fines or even a visit from ICE agents. Yesterday, DHS extended the deadline, turning the ten-day period into more like a month — Tom Cat now has until April 21. It's not clear though what happens if the Feds don't have the updated I-9s by then. The bakery's reportedly agreed to sponsor some employees, if that's an option; but in the meantime, Brandworkers has set up a GoFundMe to help the employees "meet essential expenses, like rent and food." The campaign is asking for $77,500, which would cover a month of rent for each worker.