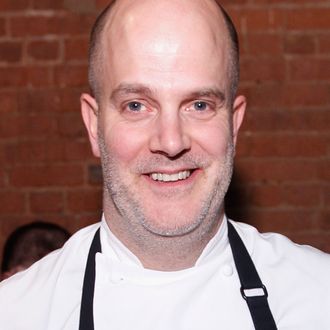 Benno will open his own restaurant downtown.
Photo: Brian Ach/Getty Images for New York Magazine
While you've been off making snowmen and binging on popcorn all day, there have been some major shake-ups in the New York dining scene: Lincoln's executive chef, Jonathan Benno, and the NoMad's executive chef, James Kent, are leaving their respective restaurants. Benno, who has worked at Lincoln since it opened six years ago and earned the restaurant two stars from the Times, wants to open his own restaurant downtown. He'll stay at Lincoln for a month or so, and then Shea Gallante — formerly of Ciano and the Baccarat Hotel — will replace him.
Similarly, Kent says he wants to forge his own path. He started working with Daniel Humm and Will Guidara ten years ago at Eleven Madison Park, and went on to lead the NoMad to acclaim. He also won the Bocuse d'OR USA in 2010. Hopefully, he, too, will stay in New York for his next venture. (Keep Gavin Kaysen at a distance from these two!)
Sources