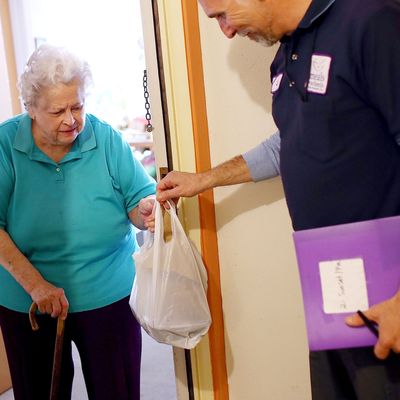 Meals on Wheels in action.
Photo: Justin Sullivan/Getty Images
Among the many cuts that President Donald Trump has suggested in his 2018 budget proposal is the elimination of the $3 billion Community Development Block Grant program. If Congress were to approve this budget, it would cut federal funding for Meals on Wheels, the popular program that delivers food to the elderly, impoverished, veterans, and individuals otherwise unable to leave their homes. There are also reportedly significant cuts proposed for the State Department's Food for Peace program, which sends food to poor countries that have been affected by a natural disaster or war.
This wouldn't mean the end of Meals on Wheels, which doesn't derive its funding from one source, but it could mean a reduction in services. In any case, it would have to figure out how to make up for the lost funding, if Trump's budget did go through. While the New York Times says the chances of that are "slim," the proposal can be seen as a statement by the Trump administration. More broadly, the Environmental Protection Agency's budget would be cut by 31 percent, the State Department's by 28 percent, and Health and Human Services' by 17.9 percent, all in favor of defense spending.