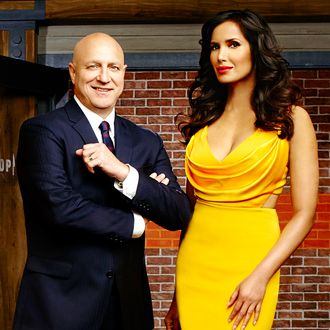 Fingers crossed for Rocky Mountain highs and oysters.
Photo: Bravo
Top Chef's next contestants will be packing their knives for the Centennial State. Bravo says Season 15 of the Emmy-winning series will take up residence in Colorado. In a statement about the new location, the channel's VP Shari Levine says: "We are always on the hunt for the next great culinary destination, and Colorado is fast becoming a hot spot for young chefs and foodies, making it an ideal backdrop for our upcoming season."
Those are about all the details you get for now, except that Graham Elliot will return to the judges' table — alongside Padma Lakshmi, Tom Colicchio, and Gail Simmons — and that viewers can expect filming locations all around the culinary scenes of Denver, Boulder, and Telluride. Production is supposed to kick off later this spring, so the list of cheftestants will probably trickle out very soon.
It's the first time the show has picked Colorado, and the head of the state's TV and film office is pretty pumped about that. "This is a big get," he tells the Denver Post. "Because Colorado is not looked on as a food destination. The best food show on television will show our great restaurants, ranches, farms, our lamb, peaches, wines … People will look at Colorado in a different way."
Food mecca or not, Colorado's definitely viewed as another kind of destination. Maybe Tom Colicchio can provide the supplies.