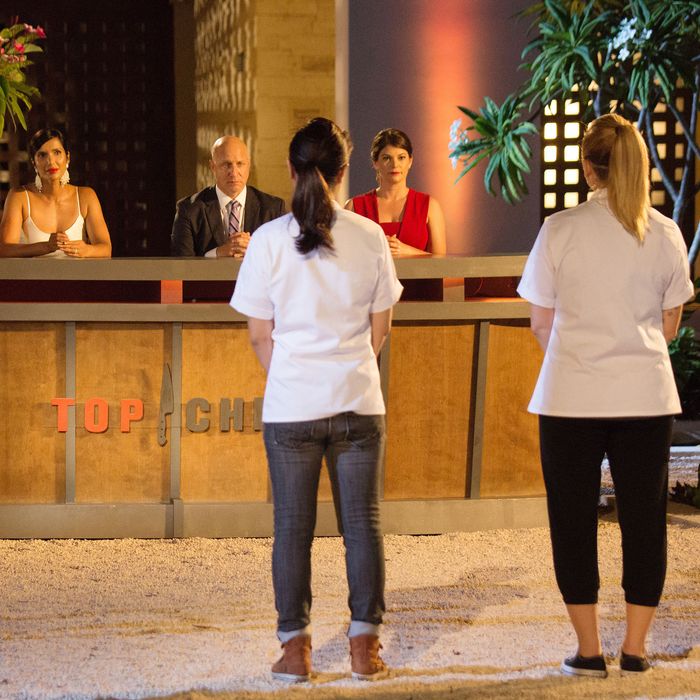 There will be no losers tonight, but also there will only be one winner.
Photo: Paul Cheney/Bravo
The moment has come. The moment is here. If I have learned anything from my sage guide Tom Colicchio, it is that there will be no losers here tonight, but also there will be only one winner.
In one corner: season 11 not-loser Shirley Chung, who "came out of the gate strong, and impressed the judges with her soulful take on modern Chinese cuisine!" In the other corner: season 10 non-winner Brooke Williamson, with the most challenge wins this season, minus the time she was briefly sent home. But now she is back. "I'm like one name-call away from winning the title of 'Top Chef,'" she observes. Unless she is one name-call away from not not losing.
As the sun rises over Secrets Akumal Riviera Maya, the warriors stare deeply into one another's hungry eyes. "I'm strangely awake this morning," Brooke threatens, suggestively biting into a watermelon. Shirley says okay. With eerie calm, Brooke says her only job now is to cook better than Shirley. Shirley, in turn, looks terrified that Brooke will eat her.
The final challenge is to create a progressive four-course meal, which they will serve in a dining room. Surprise! (Just kidding, that is always the final challenge.) Since Tulum is short on Whole Foods locations, the chefs will place their orders with the hotel, plus extras from the market.
And here come our long-lost friends, like Katsuji, Sheldon, and a bunch of other fallen fellows I forgot existed. Remember Annie? I didn't! Anyway, she's here. Brooke and Shirley get three sous-chefs each, to ease their road to victory. Since she wins the knife draw, Shirley gets to pick first, and chooses Brooke's BFF, Casey. Oh, guns are a-blazing! If that's how it's going to be, Brooke goes with Sheldon. Shirley drafts Katsuji. "Because I'm Mexican?" wonders Katsuji. Actually, yes! Shirley thinks it will be helpful, on account of how they are in Mexico. Brooke takes Sam, because he is "talented," and also a "positive person." It is a delight to see him, visually. But wait! Tom has an announcement: the third team member is up to the judges, and the judges have chosen …. the chefs de cuisine of Brooke and Shirley's respective restaurants! "It's so great to have someone that knows me so well cooking side by side with me at the most important moment of my life," squeals Shirley. "I know that he will do everything in his power to help me win," grins Brooke. Tom says he looks forward to eating.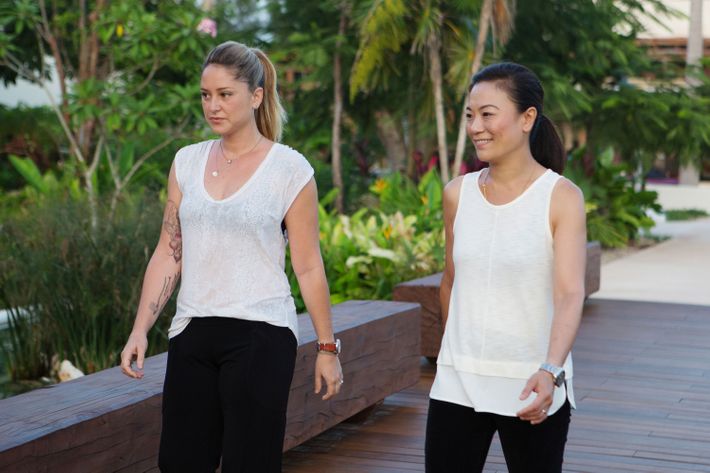 Back in the kitchen, the finalists explain their visions, and their teams take copious notes. Inspired by Edna Lewis, Shirley will use her meal to tell a story based on her favorite food memories, so she's kicking it off with a nostalgic little snapper crudo, followed by Top Ramen-inspired ramen, suckling pig, and sticky jasmine-rice pudding. "Cooking is about expressing emotion," she says. At the market, she and her teammates express their emotions very loudly, which has the added benefit of annoying Brooke, who prefers to shop in meditative silence. Inspired by the country of Mexico, Brooke's plan is to focus on local ingredients, beginning with a punchy oyster appetizer, and then progressing though charred octopus, braised pork belly with beans, and chamomile flan.
While the chefs shop, Secrets Akumal has very efficiently obtained all the ingredients everyone asked for, including a piglet. Usually, when I go to a hotel, I have trouble getting, like, a towel. Unfortunately, though, they did not get Brooke's pork belly. This is because she did not order it. Whoops!
Here is the pivotal drama of the evening: Brooke, who desperately needs pork belly, does not have any pork belly. Shirley, who only ordered pork belly as a backup in case something went wrong with the piglets, has tons of pork belly. "Hey, Shiiiiiiiiiiirley," chirps Brooke, real casual. "You have pork belly on your list, right? Do you mind if I … use it?" Brooke is very surprised to find out that yes, Shirley is using it. The twist is that actually Shirley (probably) isn't using it, pig-dependent, so she might be able to help; but she's not ready to make any promises. Bereft, Brooke agrees to take whatever she can get, as long as it is pork belly.
Since there's nothing left to do but eat (I know the feeling), Brooke and Shirley head over to a different resort for dinner, where they are shocked to find their families waiting for them. Shirley's husband is here! Brooke's husband is here! Brooke's child is also here! During this time, we learn that Brooke's child is named Hudson, which is also the name of her bar, and that Brooke's husband is very tall. Watching their domestic reverie, Shirley confesses that she always thought she could never have a family because of her long hours, and her devotion to the restaurant; but now that Brooke has shown her it is possible, maybe she, too, will get to have a family of her own.
There is no time to consider the oppression of the patriarchy, though, because the cooking must commence. All in all, everything's going great, minus the fact that Shirley can't stabilize her pasta machine, and Brooke's flan is catastrophically dense. Then again, Brooke manages to get her pork belly. "I really don't want to win because Brooke cannot get her proper ingredient," Shirley explains, gamely. "Thank god," agrees Brooke. I will choose to interpret this as gratitude.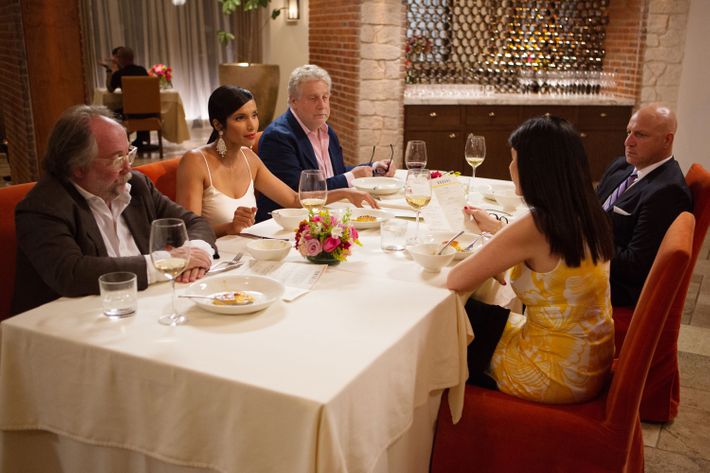 It's all happening! As the judges take their seats, the waiter brigade brings out the two first courses of the night: Brooke's warm oyster with grilled Swiss chard and bacon, versus Shirley's dish, which is called "Let Me Take You to Lijiang," composed of snapper crudo with chili-soy vinegar and crispy shallots.
Everyone swoons over Brooke's thoroughly modern take on oysters Rockefeller. "Just, like, it was beautiful," stutters Jonathan Waxman. "It's the best oyster I've ever had," agrees Brooke's dad. Shirley's crudo, meanwhile, is generally determined to be reasonably pleasant, except for how it is short on mint, and maybe flavor.
Up next: Shirley's artisanal ode to Top Ramen — "When I Was 8" — pit against Brooke's charred octopus with orange annatto seafood broth, radish, garlic purée, and garlic chips. Again, no one has anything bad to say about Brooke's garlicky octopus extravaganza. "This is finale food," Padma raves. Jonathon Sawyer would put it on any one of his menus. As for Shirley, it is not looking good: while her ramen condiments are "super interesting," her broth is flat, and her noodles are inadequately supple. "It iz difficult to qualify zhat as a winning dish next to the octopus of Brooke," opines the very French Daniel Boulud. "Not-So-Top Ramen," would have been a sicker burn.
Just when it seems hopeless, though, Shirley bounces back with the revelatory "Dear Baba"— braised piglet shanks with lentils, wild rice, spinach, and habanero onions. "Being German, I haven't had a pork like this since leaving Germany," exclaims Joachim Splichal. The dish causes Tom to beam, "I forgot how much I love wild rice!" And I wonder if I have ever loved anything as much as Tom apparently loves wild rice. My biggest fear is that I have not.
The problem for Shirley is that Brooke's saucy braised pork and beans, with onion and purslane, is also very tasty. Typical Brooke.
But wait: Brooke's aged rum and chamomile flan aren't winning any prizes tonight. It wobbles all wrong, and Tom can't taste the chamomile. Shirley's rice pudding with tropical fruit and lemon-lime ice, on the other hand, may be the highlight of Daniel Boulud's life. Oh-ho-ho, how the tables have turned!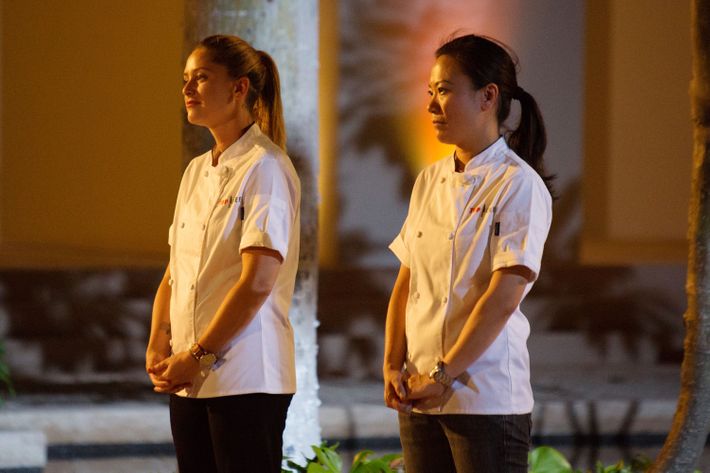 And so it is off to Judge's Table, one last time. Tom still doesn't approve of Shirley's crudo proportions, Graham still thinks her ramen broth was boring, but her pig shank was brilliant, and everyone says her rice pudding was a creative triumph, and arguably the best dish of the night. Even Tom smiles! Probably, he is remembering the wild rice.
For Padma, is not an easy decision, but Tom is not a man of doubt. After a quick preamble, about the nature of winning, and also not winning — which is not the same as losing — Padma says the words we know are coming. The winner is Brooke, who, like Kristen before her, emerged from the digital swamp of "Last Chance Kitchen" to reign supreme. But non-winner Shirley is a winner, too, in a way. "I did what I really wanted to do originally, which is to express my love to my loved ones," she says, and one last time, we weep.