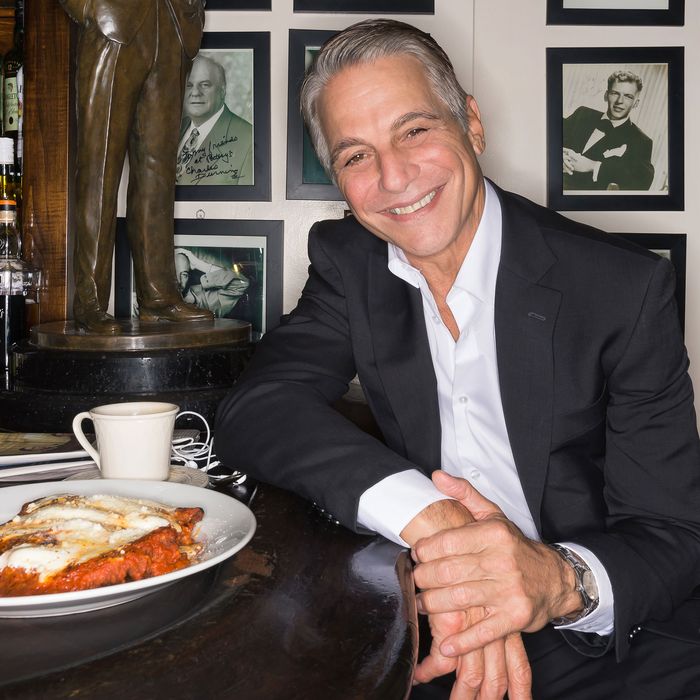 The chicken Parmesan at Patsy's is one of his favorites.
Photo: Noah Fecks
You definitely know Tony Danza from his acting career — he famously starred in Taxi and Who's the Boss? — but if you spend time in New York's Little Italy, you've also likely seen him at Alleva, the cheese shop he co-owns. A perk of the job, of course, is that he gets to name a sandwich after himself and eat it all the time (along with the chicken Parmesan and broccoli rabe). Plus, Alleva provided him with the necessary fuel for another job this week, singing and dancing at 54 Below. Read all about it in this week's Grub Street Diet.
Thursday, March 16
I enjoyed the morning with my coffee and practiced on my ukulele. Every day, I have a big glass of Metamucil and then I work out. It's my meditation, and I need a good sweat in the morning to feel right. Usually, I do interval training with weights and cardio to get my heart rate way up. I lie to the stationary bike and enter my age as 50, so it pushes me. [Editor's note: He's 65!]. Had half of a sandwich, a banana, and a couple of breadsticks with the rest of last night's tea. I make a big cup. The breadsticks are addictive, but I control it with the banana.
I did an AOL Build interview and, in the car, some radio for the Philly talent show I'm hosting at Northeast High School. I owe the school such a debt of gratitude from the year I was there. Then down to Alleva. Got the driver, Graham, a "Tony Danza," made by the sandwich artist Joe Marone. A "Tony Danza" is thinly sliced roast beef, Swiss cheese, hot peppers, lettuce, and spicy mustard on a dug-out Italian roll. I love the cold cuts, but you don't want to eat too much of that processed meat. Got myself one, too, plus some more soup, chicken Parm, and broccoli rabe. I have shows Friday and Saturday and need to stock up, as I won't be back until Sunday. Everything, lately, is from my store. I used to cook! Got home and had half of the sandwich with some chips and a salad of iceberg lettuce, garlic, onions, and cucumbers.
I came to own Alleva because my former boxing manager, Cha Cha, is from the neighborhood, and he was clocking that store because it's on the best corner in Little Italy. He said to me, "I think we can buy this store. This guy's got no more kids!" He kept asking, and finally the guy said yes. So a few of us bought the store. I was just the silent partner. And then my friend got sick and unfortunately passed away, and I decided to see what I could do with it. Now, I feel a tremendous sense of responsibility, not just to him, but to keep a 125-year-old store alive. I want to try to turn it into a heritage brand. It's hard to believe it's one of the oldest things in America. So I became the big cheese.
Danny DeVito, my pal, made his Broadway debut in The Price. He was great! Didn't go to the after-party, I have to work tomorrow night at 54 Below. I had the other half of the sandwich with some tortilla chips and a glass of red wine. Made my green tea, lemon, and honey, and turned in.
Friday, March 17
Normal morning. Coffee, Metamucil. Workout and newspaper. Banana and three breadsticks. Tap class at 12:30.
Picked up an iced coffee after my walk to 54th Street. Stopped in to see my acting teacher, and then went down to Nola to tap dance for an hour with the great Patty Lochery. Walked home and had a bowl of lentil soup, and the eggplant Parm on a piece of toasted Italian bread. Put a beer in the freezer before I ate, and it was really cold with my sandwich.
At 4 p.m., I went to a sound check at 54, again on 54th Street. Walking back and forth is harder today because of the mounds of snow and St. Patty's Day. Lots of people out in green. Quick sound check and back to my place. Bowl of soup and the other half of the sandwich. You've got to always have a sandwich in your refrigerator. I'm telling you.
Did my show. It went well. Sang and danced pretty well. Michael Feinstein and Marilu Henner were there. Afterward, Marilu and I went to Patsy's on 56th Street, and I had vodka on the rocks with a twist of lemon, and a glass of red wine with a half-order of chicken Parm. I guess I like that. Finished with some great grappa. Home, tea, and bed.
Saturday, March 18
I woke up and my voice felt weird, and I got nervous for the show tonight. But as usual, after my workout, I felt better. It's amazing what vigorous exercise will do. I started the day with coffee and my usual Metamucil, banana, and breadsticks. I was glad to have the food I grabbed from Alleva, and I continued to live on it. I went to the market and got some potatoes, onions, broccoli, and garlic for a side dish with the chicken Parm. I worked on an opening for the show and killed the afternoon.
The weather was bad, so I grabbed a cab to the club and went on at 8 p.m. I had a really good show. I know because I had so much fun doing it. The chef at the club made a recipe for shrimp scampi from my cookbook, Don't Fill Up on the Antipasto. My father would be proud. He did most of the cooking when I was young, and taught me how to cook.
After the show, the kitchen sent me a great grilled-chicken sandwich with avocado, tomato, and lettuce. Lynn Bound, the chef at Feinstein's 54 Below, can really cook. The food there is so good that it puts pressure on the entertainment. I was jazzed after the show and hung out at the club, and had a few vodkas on the rocks, twist of lemon. Got home late, made tea, and felt good.
Sunday, March 19
Paid the price for last night and woke up with a serious hangover. Once I got moving again, my workout saved me. I had a date to meet my daughter at 1:30 p.m. in Little Italy. She's a yoga instructor and had a class to teach earlier. I had coffee, and then my usual banana and breadsticks, before I left my apartment. Took the B train to Grand Street and walked to Alleva. Beautiful day.
My daughter met me, and we went to La Mela on Mulberry Street. We love the baked clams, and had two orders with bread and Pinot Grigio. Then we both had a big bowl of pasta e fagioli. Finished with a double espresso and went back to the store. My daughter got some stuff for home, and I grabbed some, too.
Later, watching some news show, I cut up some fresh carrots, celery, broccoli, and potatoes, and defrosted a container of turkey soup that I had in the freezer. I added the vegetables and it was really good. Ate it all. Two bowls with a bunch of breadsticks. Thank goodness for the freezer. Tea, an apple, and some chocolate.
Monday, March 20
Spent the day preparing for Northeast High School's talent show — getting the prizes and beginning to write the show. I got the list of acts, and it's going to be a long show. I can't wait. I'm also trying to cast a play I've written. I had it in my head. I took a one-day playwriting course from eight in the morning to six at night and got it out. There'll be a reading for directors and investors on April 26 at the CAA offices in the Chrysler Building. I'm excited about hearing the play out loud. I have three of the seven parts cast. Good actors. I also called some old friends, uncles, and aunts, and said hello and checked on them.
I took my tuxedos and shirts to the cleaners so that they will be ready for the shows next weekend. After a workout, I had my Metamucil and a banana with some breadsticks. Never got down to the store, but had a bowl of lentil soup, half of a medium container of cabbage in garlic and oil, and the last of the eggplant and chicken Parm. I wish I could be more accurate, but ayy yo, give me a break.
Tuesday, March 21
I had a radio tour to support the talent show in Philadelphia — four interviews with Philly morning-radio shows. I've done them all before, as this is the sixth annual Teachers vs. Students talent show at Northeast High School, and they are nice enough to put me on to publicize the show. I had my second cup of coffee during the interviews; and then when I finished, I did the banana-breadstick thing.
I had a photo shoot at Patsy's restaurant on 56th and Eighth for this story at 1 p.m., and I got there about 15 minutes before the photographer. Sal, who owns the joint, again made a plate of chicken Parm for the shoot, and I took it with me after we got the shot.
I took the B train to Grand Street and got to the store about 1:30. Another beautiful day to sit in front of the store and watch the world go by. I had some chicken oreganata and a combo of cabbage, chickpeas, onions, and anything else our chef, Danny Paolucci, could find. So good! I got some breadsticks and some fresh breaded, deep-fried chicken cutlets. I will freeze them. The verdict is in: I eat a lot of chicken.
Got home with the food and made potatoes, onions, and broccoli in garlic and oil. Lots of bread, and after the vodka, I got to the red wine. Two Tate's double-chocolate cookies and green tea, lemon, and honey.