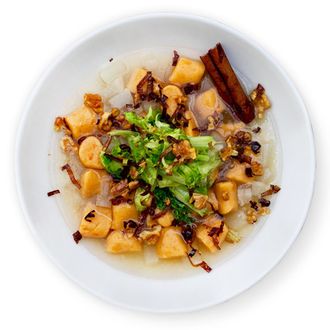 Could definitely have been worse, all things considered.
Photo: Purple Carrot
Wellness enthusiast and good football player Tom Brady is partnering with the vegan meal-kit start-up Purple Carrot, in order to convert his kind of miserable-sounding TB12 diet into a subscription meal-kit service that will show up at your door week after week after week. For $78, Purple Carrot says they'll ship you three plant-based Performance Meals per week, which are designed to help active individuals "stay at their peak while adhering to the TB12 nutritional philosophy." Consensus seems to be that the TB12 nutritional philosophy falls somewhere between impossible for mere mortals and possibly dangerous, but these meals that Brady's team seems to have worked out with Purple Carrot are actually not as soul-crushing as you'd expect.
They will, of course, still be vegan, as well as gluten-free, high-protein, and limited in their use of soy, refined sugar, and processed ingredients. Purple Carrot teased three sample dishes: One is a risotto that subs white lentils for rice; another is Middle Eastern turnip cakes with a quinoa tabbouleh; while the third is a veggie ramen that features broccolini, watermelon radish, and amaranth greens.
Brady's list of do-not-eats is concerningly long (no strawberries, coffee, olive oil, tomatoes, or anything nonorganic, and that but scratches the surface of banned unobjectionable foods), and his TB12™ Nutrition Manual retailed for a small $200 fortune. Still, if you're sure you must adapt this ultrastrict diet in order to reach peak performance or, in Purple Carrot's words, because you "just want to enjoy the same meals" as Brady and Gisele Bündchen, the kits are available for preorder now.