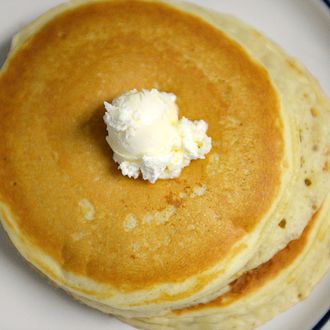 On the house, for today only.
Photo: RJ Sangosti/Denver Post via Getty Images
It's that time of the year again — the one day you should eat at IHOP and not Waffle House, because Waffle House doesn't officially recognize National Pancake Day. For 12 hours today, 7 a.m. to 7 p.m., IHOP is flapjack-freebie grand central. Guests are entitled to a free short stack of original buttermilk pancakes. They're encouraged to donate the cost of that meal to one of IHOP's charity partners (the Children's Miracle Network, Shriners Hospitals for Children, or the Leukemia & Lymphoma Society). This is the promotion's 12th year and, not that surprisingly, always IHOP's biggest annual philanthropic event, putting the totally made-up National Pancake Day on the map. The chain expects to give away 5 million pancakes today, basically qualifying March 7 as the second Fat Tuesday in a row.