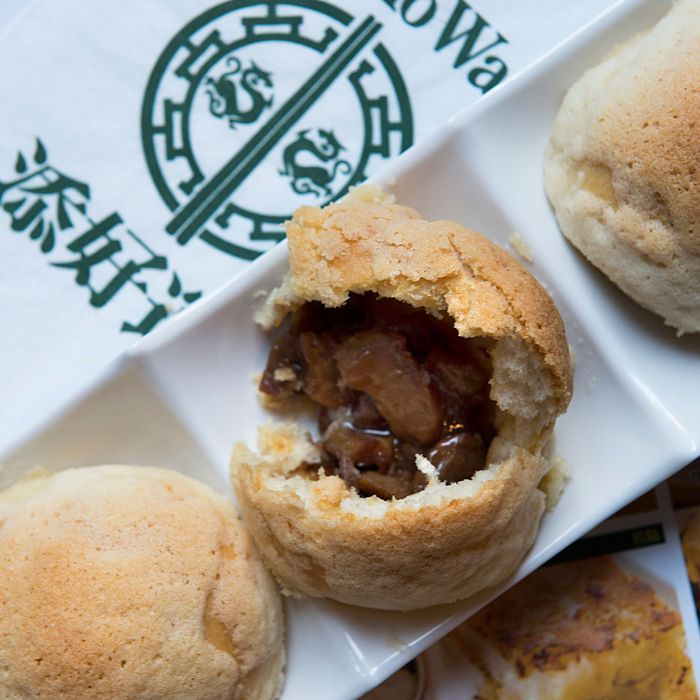 Tim Ho Wan's famed pork buns are baked instead of steamed.
Photo: Liz Clayman
Once you've worked your way to the front of the ridiculously long cyberline — we left a name at 10 a.m. on a Saturday morning, went back to the apartment to do the laundry and have a short premeal nap, then returned for lunch two and a half hours later — the first thing you notice about the new New York branch of the storied Hong Kong dim-sum destination Tim Ho Wan is its relatively tiny size. Compared to the great big-box establishments of Manhattan's Chinatown, and out in Sunset Park, this is a stripped-down, little Mini Cooper of a dim-sum joint. There are no steam carts perambulating around the cramped, little corner space on the corner of Fourth Avenue and 10th street. The menu — emblazoned at the top with the phrase "Dim Sum Specialists" — is printed on a single leaflet-size page. The tables are not family size, and if you don't feel like waiting for hours to attain one, you can enjoy your turnip cakes and steamed har gow standing up at the front of the house, at a cramped, little dining counter set for six.
The original Tim Ho Wan started life as a similar hole-in-the-wall operation in Hong Kong, albeit one run by a former dim-sum chef at the local Four Seasons Hotel. Michelin famously awarded the little stand a star in 2009, making it the cheapest Michelin-approved restaurant in the world; and since then, it has turned into a mini-chain, with its own green logo, and outlets in countries like Indonesia, Thailand, and Singapore. But the classic dim-sum specialties are still cooked to order in an open kitchen, just like in the old days; and on this morning, the air is filled with the comforting smell of sweet barbecued-pork buns, and a thousand dumplings steaming in bamboo trays.
"It's almost like home," said a woman from Taiwan who was standing at the dining counter, and who had enjoyed countless satisfying meals standing at little spots like this, in street markets, train stations, and food courts. She was enjoying an order of those fabled barbecue-pork buns and a generous ball of sticky rice wrapped in lotus leaf, so when we're situated at our table, we order that, too, along with ritual plates of steamed-rice rolls stuffed with shrimp and chives, and a small tsunami of items from the "steamed" section of the menu.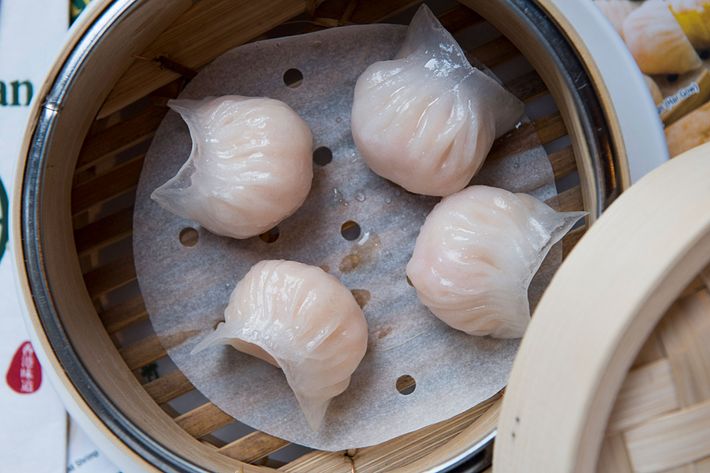 Dim sum in New York (and Hong Kong, for that matter) tends to be more about the unique, helter-skelter experience than the food, but on first bite, that's not the case here. The rice inside the hot bundle of lotus leaves is soft and infused with pork gravy, and the pork at the center falls apart when you tweak it with your chopsticks. The famous Tim Ho Wan barbecue-pork buns live up to their impressive reputation (they're baked instead of steamed, and the pastry crust is touched with sugar, for an extra addictive punch), as do the plump shrimp dumplings, which are laced with fresh chives that you can taste in the back of your nose.
Our little dining party doesn't order the entire menu, but because we may never get in again, I'm sorely tempted. The pan-fried turnip cakes have just enough of a fried crunch to them, and so do the vegetable spring rolls, which are flattened and cut in half, like little tea sandwiches. That totem of the dim-sum experience, the long-steamed rice roll, is melting instead of rubbery — and if you get one, make it the one stuffed with shrimp and chives. I did not spring for the braised chicken feet in abalone sauce, I confess, but the deep-fried pork and shrimp dumplings have a delicate chewy, crunchy consistency and taste faintly of anise — just like the kind I enjoyed last year on a visit to Hong Kong. The dessert options are mercifully short, but if you have to choose one, my daughter recommends a dainty little mash-up creation called "French Toast Made With Custard," which combines the sweetness of classic Chinese egg custard with the familiar, comforting texture of good old French Toast.
Was it worth the three-hour wait? If there's a group of you (and you can go home to do the laundry, or bake a batch of cookies), then the answer is yes, especially considering the relatively modest cost ($98 for three, including tip), and the other options around town. When I crave my next solitary dim-sum fix, however, I'll be at the counter, which might just be the best seat in the house.