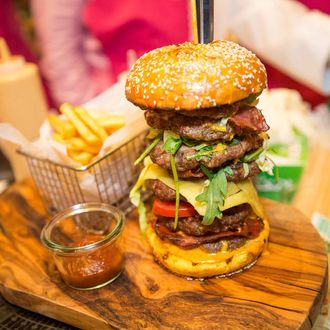 That's all ten Gs bought you.
Food that costs a few hundred or thousand times what it should will never not be irritating on a certain level, even when no buyers get duped. But at least this over-the-top burger that sold in Dubai for $10,000, ostensibly making it the "world's most expensive," entirely benefits charity, meaning at least it was a waste of money for a good cause. (Breast-cancer awareness, in this case.) Russell Impiazzi, culinary director at Le Gourmet in the city's Galeries Lafayette mall, built the sandwich with the help of Qatar's Everest-hiking Sheikh Moe Al Thani, and it was with the explicit intention of shattering 2015's $7,000 record for a different burger. Their concoction this year involved stacking beef patties seven-high (representing the United Arab Emirates' seven emirs), and adding aged cheddar and veal bacon to a saffron-infused brioche bun.
It appears maybe there was a negligible amount of arugula and a slice or two of tomato in there as well, but definitely no 24-karat gold mixed into the brioche dough, or foie gras–infused bourbon sauce. The winning bid was placed by Asma Al Fahim, an Emirati woman who runs a magazine, founded the European International College for Hotel Management and Tourism, and is celebrated in the UAE as a successful businesswoman herself.