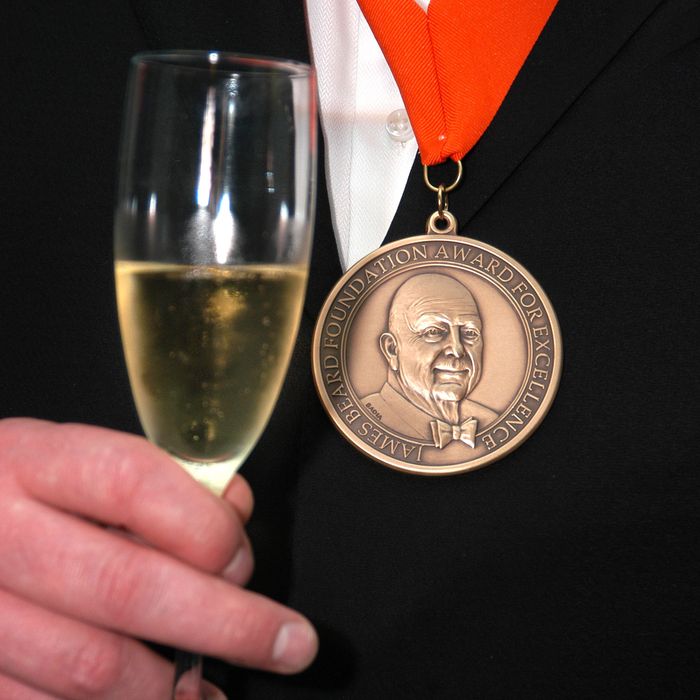 Congratulations to all the nominees.
Photo: Victor Spinelli/WireImage
Today, the James Beard Foundation announced its picks for finalists in its annual chef and restaurant awards, having whittled it down from the initial list of semifinalists. As always, congratulations go out to all the deserving nominees, which this year include Ignacio Mattos, Dominique Crenn, Missy Robbins, Gjelina's Travis Lett, and many, many more.
Here is the full list. Winners will be announced at the annual gala on May 1 in Chicago.
Best New Restaurant
In Situ, San Francisco
Le Coucou, NYC
Olmsted, Brooklyn, NY
Pineapple and Pearls, Washington, D.C.
Tartine Manufactory, San Francisco
Outstanding Baker
Ken Forkish, Ken's Artisan Bakery, Portland, OR
Mark Furstenberg, Bread Furst, Washington, D.C.
Zachary Golper, Bien Cuit, Brooklyn, NY
Belinda Leong and Michel Suas, B. Patisserie, San Francisco
Greg Wade, Publican Quality Bread, Chicago
Outstanding Bar Program
Arnaud's French 75 Bar, New Orleans
Bar Agricole, San Francisco
Clyde Common, Portland, OR
Cure, New Orleans
The Dead Rabbit, NYC
Outstanding Chef
Gabrielle Hamilton, Prune, NYC
David Kinch, Manresa, Los Gatos, CA
Christopher Kostow, The Restaurant at Meadowood, St. Helena, CA
Donald Link, Herbsaint, New Orleans
Michael Solomonov, Zahav, Philadelphia
Outstanding Pastry Chef
Kelly Fields, Willa Jean, New Orleans
Maura Kilpatrick, Oleana, Cambridge, MA
Margarita Manzke, République, Los Angeles
Dolester Miles, Highlands Bar & Grill, Birmingham, AL
Ghaya Oliveira, Daniel, NYC
Outstanding Restaurant
Frasca Food and Wine, Boulder, CO
Highlands Bar and Grill, Birmingham, AL
Momofuku Noodle Bar, NYC
Quince, San Francisco
The Spotted Pig, NYC
Topolobampo, Chicago
Outstanding Restaurateur
Kevin Boehm and Rob Katz, Boka Restaurant Group (Boka, Girl & the Goat, Momotaro, and others), Chicago
JoAnn Clevenger, Upperline, New Orleans
Ken Oringer, Uni, Toro, Coppa, and others, Boston
Stephen Starr, Starr Restaurants (Le Coucou, Serpico, Upland, and others), Philadelphia
Caroline Styne, The Lucques Group (Lucques, a.o.c., Tavern, and others), Los Angeles
Outstanding Service
Blue Hill at Stone Barns, Pocantico Hills, NY
Galatoire's Restaurant, New Orleans
Marea, NYC
Terra, St. Helena, CA
Zahav, Philadelphia
Outstanding Wine Program
Benu, San Francisco
Canlis, Seattle
Emeril's New Orleans
Fig, Charleston, SC
Miller Union, Atlanta
Outstanding Wine, Spirits, or Beer Professional
Sam Calagione, Dogfish Head Craft Brewery, Milton, DE
Diane Flynt, Foggy Ridge Cider, Dugspur, VA
Miljenko Grgich, Grgich Hills Estate
Rutherford, CA
Aldo Sohm, Zalto Glass, NYC
Rob Tod, Allagash Brewing Company, Portland, ME
Rising Star Chef of the Year
Camille Cogswell, Zahav, Philadelphia
Zachary Engel, Shaya, New Orleans
Matt Rudofker, Momofuku Ssäm Bar, NYC
Jenner Tomaska, Next, Chicago
Brady Williams, Canlis, Seattle
Best Chefs in America
Best Chef: Great Lakes
Abraham Conlon, Fat Rice, Chicago
Sarah Grueneberg, Monteverde, Chicago
Beverly Kim and Johnny Clark, Parachute, Chicago
Lee Wolen, Boka, Chicago
Erling Wu-Bower, Nico Osteria, Chicago
Best Chef: Mid-Atlantic
Amy Brandwein, Centrolina, Washington, D.C.
Tom Cunanan, Bad Saint, Washington, D.C.
Rich Landau, Vedge, Philadelphia
Greg Vernick, Vernick Food & Drink, Philadelphia
Cindy Wolf, Charleston, Baltimore
Best Chef: Midwest
Steven Brown, Tilia, Minneapolis
Justin Carlisle, Ardent, Milwaukee
Jorge Guzman, Brewer's Table at Surly Brewing Co., Minneapolis
Kevin Nashan, Sidney Street Cafe, St. Louis
Kevin Willmann, Farmhaus, St. Louis
Best Chef: New York City
Marco Canora, Hearth
Anita Lo, Annisa
Ignacio Mattos, Estela
Missy Robbins, Lilia
Jody Williams, Buvette Gastrothèque
Best Chef: Northeast
Karen Akunowicz, Myers + Chang, Boston
Cassie Piuma, Sarma, Somerville, MA
Susan Regis, Shepard, Cambridge, MA
Benjamin Sukle, Birch, Providence, RI
Andrew Taylor and Mike Wiley, Eventide Oyster Co., Portland, ME
Best Chef: Northwest
Greg Denton and Gabrielle Quiñónez Denton, Ox Portland, OR
Edouardo Jordan, Salare, Seattle
Katy Millard, Coquine, Portland, OR
Justin Woodward, Castagna, Portland, OR
Rachel Yang and Seif Chirchi, Joule, Seattle
Best Chef: South
Vishwesh Bhatt, Snackbar, Oxford, MS
Nina Compton, Compère Lapin, New Orleans
Jose Enrique, Jose Enrique, San Juan, PR
Slade Rushing, Brennan's, New Orleans
Rebecca Wilcomb, Herbsaint, New Orleans
Best Chef: Southeast
John Fleer, Rhubarb, Asheville, NC
Edward Lee, 610 Magnolia, Louisville, KY
Steven Satterfield, Miller Union, Atlanta
Ryan Smith, Staplehouse, Atlanta
Andrew Ticer and Michael Hudman, Andrew Michael Italian Kitchen, Memphis
Best Chef: Southwest
Bryce Gilmore, Barley Swine, Austin
Steve McHugh, Cured, San Antonio
Hugo Ortega, Hugo's, Houston
Steve Redzikowski, Acorn, Denver
Martín Rios, Restaurant Martín, Santa Fe
Jianyun Ye, Mala Sichuan Bistro, Houston
Best Chef: West
Michael Cimarusti, Providence, Los Angeles
Dominique Crenn, Atelier Crenn, San Francisco
Jeremy Fox, Rustic Canyon Wine Bar and Seasonal Kitchen, Santa Monica, CA
Corey Lee, Benu, San Francisco
Ludo Lefebvre, Trois Mec, Los Angeles
Travis Lett, Gjelina, Venice, CA
The James Beard Foundation is also pleased to announce the 2017 recipients of the Who's Who award:
Suzanne Goin, multiple James Beard Award–winning chef and restaurateur, A.O.C., Lucques, and Tavern, Los Angeles
Evan Kleiman, culinarian; host of KCRW's Good Food, Los Angeles
Roger Berkowitz, president and CEO, Legal Sea Foods, Boston
Michel Nischan, multiple James Beard Award–winning chef; founder, president, and CEO, Wholesome Wave, Bridgeport, CT
Rajat Parr, Director, Mina Group Wine; sommelier and author, San Francisco
Restaurant Design Awards: 75 Seats and Under
Firm: AvroKO
Designers: Kristina O'Neal, William Harris, Adam Farmerie, Greg Bradshaw
Project: SingleThread, Healdsburg, California
Firm: Guga
Designer: Jeff Guga
Project: Kismet, Los Angeles
Firm: Ken Fulk Inc.
Designers: Tiffany Kramer and Jon de la Cruz
Project: Leo's Oyster Bar, San Francisco
Restaurant Design Awards: 76 Seats and Over
Firm: AvroKO
Designers: Kristina O'Neal, Adam Farmerie, Greg Bradshaw, William Harris
Project: Momotaro, Chicago
Firm: Home Studios
Designers: Evan and Oliver Haslegrave
Project: Gwen Butcher Shop & Restaurant, Los Angeles
Firm: Meyer Davis
Designers: Will Meyer, Gray Davis, Katie McPherson
Project: St. Cecilia, Atlanta