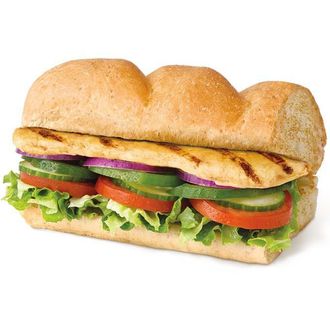 Still doesn't make this look super tasty.
Photo: Subway
The sandwich chain has released two lab tests of its own to counter CBC Marketplace's "false and misleading" report from earlier this week, which revealed only 50 percent of Subway's chicken is in fact poultry. These rebuttal tests, no surprise, demonstrated that Subway's chicken is actually "less than 1 percent" soy protein. The Canadian broadcaster's investigation, which was done by scientists at Trent University, examined the "chicken" at multiple fast-food chains — dismayingly, nobody's was more than 89 percent bird, but Subway's was uniquely suspect, getting a score of between 54 percent and 43 percent chicken.

Suffice it to say, Subway wasn't pleased with CBC's exposé. Its CEO gave the Washington Post a statement saying, "The stunningly flawed test by Marketplace is a tremendous disservice to our customers. The allegation that our chicken is only 50 percent chicken is 100 percent wrong." Its tests, conducted by two independent labs, evaluated the amount of soy in samples of the chain's chicken, and they report the plant protein didn't even reach ten parts per million — findings Subway says are "consistent with" the amount of soy protein it adds to keep its chicken "moist and flavorful."
CBC has already rebutted the rebuttal, too, posting Trent University's original lab report online, and noting that, curiously, only Subway's samples "had significant levels of plant DNA." It found new experts to explain how these lab tests work, namely that "DNA tests do not lie (especially when conducted multiple times)," a reference to the Trent scientists' decision to retest Subway's chicken five more times because they found its percentage meat so bizarre.
The broadcaster also adds that Subway has chosen "not to provide any answers" for how scientists got crazy DNA results for just that one chain "beyond saying that the results were 'false.'" It's true that DNA testing isn't an ideal way to determine the exact mass of chicken versus soy — bird and plant DNA don't necessarily weigh the same, for starters — but CBC clarified this part of its original report, adding that the tests are "a good indicator of the proportion of animal and plant DNA in the product," regardless. Per its ingredients fact sheet, Subway doesn't list soy as being in its chicken-breast patty at all, and claims its chicken strips contain breast and rib meat, water, "2% or less" of soy-protein concentrate, and a mix of 14 other ingredients.