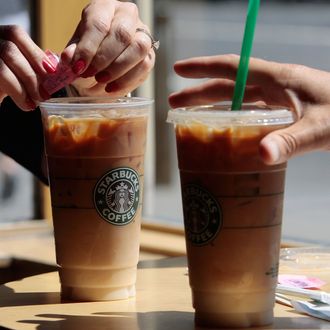 Looks cordial enough so far.
Photo: Chris Hondros/Getty Images
Talking civilly with somebody on the other end of the political spectrum is hard these days (Senator Chuck Schumer reportedly had it out with the founder of CBS's daughter, a Trump voter, at the Upper East Side's Sette Mezzo just the other night). Luckily, Starbucks is here to help: The ubiquitous chain that's already tackled issues like racism and financial turmoil is helping spearhead a new campaign to get liberals and conservatives talking. It quietly rolled out last week after an announcement by the promotion's partner, Hi From the Other Side, the Harvard Business School start-up behind an app devised to make Trump and Clinton voters do the one thing they least want to in life, which is speak to each other.
For the Starbucks campaign, users on the app will be paired with "someone nearby" who is, let's just say, ideologically not their cup of tea. Each person receives "half" of the info to unlock a Starbucks gift card. It's unclear what that means exactly, but that's apparently one of the issues they'll be solving once they're face to face: Both people have to meet up and "work together" to unlock the card. It could end in two free cups of coffee, or it could end in two black eyes — who knows? But, hey, at least those poor baristas won't be in the crossfire this time.