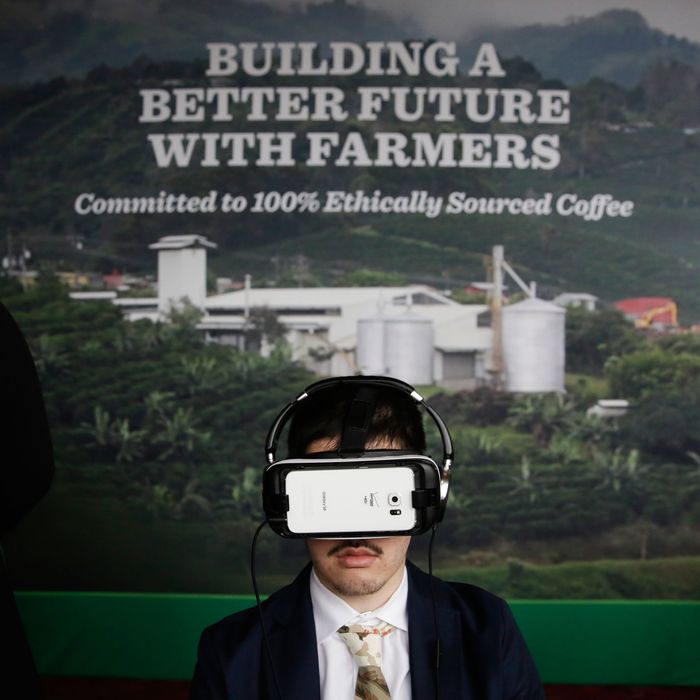 The "liberal agenda" caught in the act at today's meeting.
Photo: Jason Redmond/AFP/Getty Images
Starbucks steadfastly maintains that sales aren't affected when it mixes coffee with social justice. But its new refugee-hiring plan, which came in reaction to Trump's ill-fated travel ban, did ignite a pretty swift conservative backlash, and now some investors who say they've had enough of the company's constant "liberal agenda" plan to lambaste Howard Schultz & Co. at today's annual shareholders meeting.

This group — led by the National Center for Public Policy Research, a think tank that's also an investor — is demanding that Starbucks rethink its "liberal political stances," and just in general stop the "attacks on President Donald Trump." They argue Schultz in particular is "obviously" liberal, "perhaps even anti-conservative," and worry the CEO's politics have tainted the brand for consumers who disagree ideologically, in turn causing the brand's public perception to seriously plummet — which surveys show has happened, and which is never a good thing for sales numbers:

Starbucks has hacked conservatives off many times before: about the holiday cups not having enough Jesus on them, about the chain's strong support for same-sex marriage, and, of course, over that disastrous initiative that tried to "solve" racism by writing "#RaceTogether" on the sides of cups. But these weren't quite direct attacks on President Trump, and Starbucks's plan to hire 10,000 refugees whipped legions of supporters into a frenzy, to the point where #BoycottStarbucks was trending on Twitter for a while. Starbucks tried countering that this was anything more than a handful of unruly tweeters, but this peeved investor group contends the response is hitting the company where it hurts.

In a statement explaining today's charges, the think tank writes that coffee has "no political allegiance," yet Starbucks has been "unwavering in its support of liberal causes to the detriment of its brand and shareholder value." They add that Schultz is set to retire next month, but it still "remains to be seen" if the new CEO Kevin Johnson will try to "unite Americans" or "continue Schultz's divisive politicking." They'll get their answer by Christmas, at the very least.