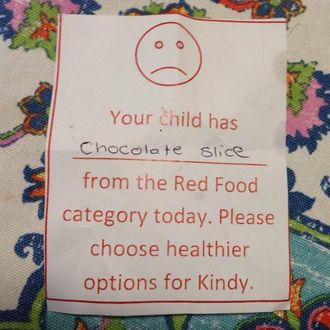 Surely parents will respond well to this note…
An Australian mom who packed a slice of chocolate cake in her 3-year-old's lunch got a note from the school telling her to "choose healthier options" next time. The warning, which included a large frowny face, has gone viral after Melinda Tankard Reist, a popular author and women's advocate (who happens to be the mom's best friend), posted a photo of it on Facebook. The note was created by the school expressly for food-shaming: It's a template that reads, "Your child has ______ from the Red Food category today. Please choose healthier options for Kindy." (Kindy means kindergarten in that part of Australia.) On her friend's note, the words "chocolate slice" were written on the blank.

Studies have shown that food-shaming is not an incredibly effective way to spur diet change; in fact, it could be the impetus for body-image issues, or even actual eating disorders. Reist tells Us Weekly that her friend — a mom of eight who's a home cook and has a degree in health science — made the dessert, known as a hedgehog slice, for her son's birthday. Per family tradition, the remainder was divided among her children for lunch the next day. Reist wrote on Facebook that after seeing her friend's note, "I told her to put in two slices tomorrow and tell them to get lost." Her friend later apparently fact-checked the note, and found that the Red Food category only applies to "processed" cakes, so her homemade dessert hadn't even broken any of the rules anyway.