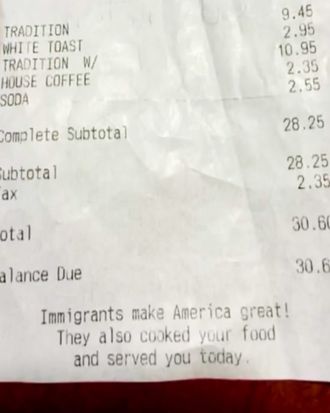 We may have ourselves a movement.
Photo: KRQE
Restaurant doors and receipts have suddenly become very active outlets for political messaging in America, and that's especially true of the checks at one café in New Mexico, a state at the epicenter of the immigration debate. Santa Fe's Plaza Café Southside has been adding a line to every receipt that reads: "Immigrants make America great. They also cooked your food and served you today."
General manager Belinda Marshall says it didn't feel right to keep quiet, so the staff decided to put a note on the bottom of receipts that give "credit where credit is due." They borrowed the phrase from Top Chef alum Mark Simmons, who made news in February when he added it to receipts at his Brooklyn gastropub Kiwiana. Now, Marshall tells the local news that — perhaps to her surprise — comments have been entirely positive so far. She explains she was "hesitant at first" and "expected some complaints," but the restaurant has yet to hear a single negative reaction. "People will write on the tickets, 'this is awesome, excellent,'" she adds.

Some chefs who have never been publicly political before tell media they're not necessarily sure now is the time to start, since they don't want to alienate potential customers. But plenty of others in the food world are getting involved all the same: The New York Times this weekend reported that the wait list for the James Beard Foundation's Chefs Boot Camps for Policy and Change has cracked 800 people (45 will get to go this year), and the National Restaurant Association set a record for its public-affairs conference this month with 500 registrants.