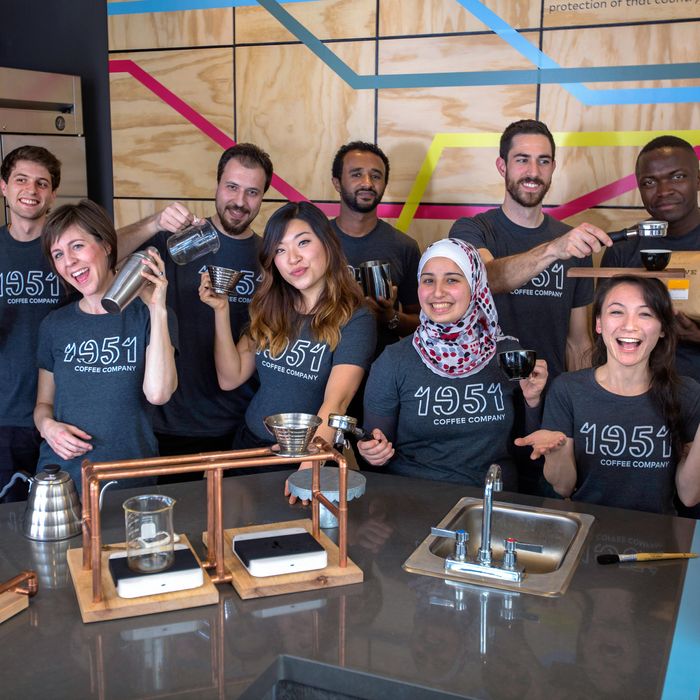 Taber, Hewitt, and the rest of the team.
Photo: 1951 Coffee
This is a good reason to support a local coffee shop: 1951 Coffee Company is a Berkeley, California, café that opened earlier this year, and is staffed 100 percent by refugees. Started by Rachel Taber and Doug Hewitt, two former International Rescue Committee workers, the spot has eight baristas working right now. They fled to the U.S. from their home countries of Syria, Eritrea, Uganda, Afghanistan, Iran, Bhutan, and Myanmar — two of which are on President Trump's reembattled travel ban.
Taber and Hewitt, who was already a coffee nerd, say the real aim is to provide skills training, not permanent jobs. Their goal is to help refugees — who often struggle to find sustainable work once they've resettled in America — move into more stable employment elsewhere in the coffee world. Fast Company reports they're already connecting team members with jobs at the in-house cafés that are practically de rigueur at Bay Area tech companies nowadays. A big perk of this is that workers also get access to these companies' often-amazing benefits packages.
The café's name refers to the year the U.N. created the Refugee Convention, the multilateral treaty that set forth guidelines protecting refugees. The Scandinavian-y décor has sort of a map theme going on, and the walls feature info on the convention. Of course, the store also has a nice $15,000 three-group La Marzocco espresso machine, and all the other prograde, third-wave trappings for the staff to learn on. So far, so good it seems: