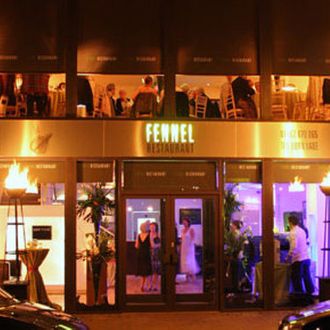 His plan was to give them kitchen-porter jobs.
Photo: Fennel Restaurant/Facebook
A restaurant owner in Scotland has offered jobs to two teenage arsonists who set a fire at his restaurant. William Bird discovered the blaze at his steak-and-burger joint, Fennel, last weekend. The kids had lit some of the outdoor furniture on fire using rolled-up newspaper. The flames burned through a couple of wicker chairs, but luckily didn't do much else. The two idiots in their early teens, though, were all over Fennel's surveillance footage (apparently, they stopped in for some quick takeout at the nearby Chinese restaurant).
Bird hatched a plan — he went onto Facebook and asked anybody who might know the duo to pass along a reward offer. "But that reward may not be what you think," he wrote. "To the two young lads who tried to set a fire at Fennel tonight, I'm offering YOU a job."
"I get it," he added, explaining he used to be a punk, too. Which is why he felt it'd be smart to think hard about his offer:

I don't give a fxxk what your issue is. I have bigger fish to fry … so, if you're ballsy enough to do what you did earlier, you're ballsy enough to take up my challenge.

I dare you, come work for me. It's not for the faint-hearted, takes something pretty special. Think you're up to it, gentlemen?
People's response to the kids' stupidity "blew me away," Bird tells the Daily Record, saying he's read comments like "Hang 'em high" and "Put their pictures out." His main thought was, "If that was your kid who has just made a bad choice and gone out and done something stupid, would you really want them plastered over social media?" Better to let them make amends without the internet recording it for eternity, he figured.
One of the culprits, a 13-year-old boy, was just arrested by local police, and true to his word, it seems Bird has already removed the post from the restaurant's Facebook page.