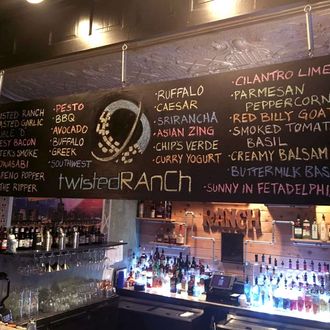 A sampling of the ranches on offer.
Photo: Twisted Ranch
There was already some buzz about Twisted Ranch in St. Louis, where the house specialties include flights of ranch dressing, ranch Bloody Marys, and "ranch-seasoned" burgers. The restaurant opened in 2015, but interest truly exploded last week after BuzzFeed's Bring Me posted a video that — as the St. Louis Post-Dispatch correctly notes — "doesn't do much more than show ponds of ranch dressing being ladled over various types of food."
The video catapulted past 20 million views, regardless, and the small neighborhood joint — previously described by Post-Dispatch restaurant critic Ian Froeb as "cramped" and "harried" — got no advance warning. Nevertheless, hordes of customers happily queued for three hours over the weekend — to the point where the ranch-dressing restaurant actually ran out of ranch. "On Friday, we had to close early because we were out of food," manager Kris Nothstine told the local paper. One diner explained to KTVI that she drove from Indiana, after seeing the Facebook video and simply deciding she "had to make it."
All of this unexpected popularity is causing some headaches in the back of the house: All ranch is homemade, and the space boasts just a single dining room. Even on weeknights, waits are still as long as an hour and a half, with people apparently just milling about the stoop and street in front. To help streamline service during the evening rush, the restaurant has also started closing mid-afternoon for two hours to prep for dinner. The owners — who, remember, have dedicated their lives to a restaurant that specializes in ranch dressing — are taking it all in stride. They tell local reporters that they just have to prioritize their expansion plans.