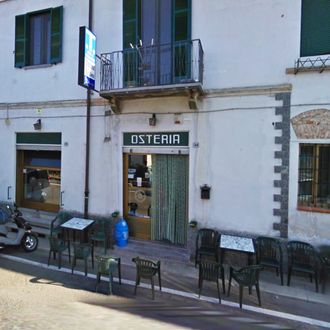 Beware of chef's gun.
Photo: Google
A chef is facing criminal charges after he shot and killed a burglar who broke into his restaurant outside the city of Milan, and now the locals have responded by booking every table in the place. According to Italian media, Mario Cattaneo stands accused of voluntary manslaughter, a charge that carries a minimum prison sentence of 21 years, though the 67-year-old claims he did it purely out of self-defense.
Cattaneo argues he was asleep in his apartment above Osteria dei Amis early Friday morning, heard noises below, and grabbed his hunting rifle. Downstairs he found three intruders — he says some sort of skirmish occurred, and his gun accidentally discharged in the process. "It went off when I fell to the ground," he told reporters. "One of them was trying to grab the gun off me and he dragged me along for several meters. It was dark and I didn't see what happened." He claims he didn't know anyone even got hit by the bullet until he was at the hospital being treated for his own injuries.
His small restaurant's sudden popularity isn't from rubberneckers so much as people apparently protesting what they believe is an out-of-line formal investigation. Activists who think Italy's gone soft on crime are using Cattaneo's charges as a reason to change Italy's laws — they argue he should be able to invoke self-defense and walk — and there's reportedly even an ally of former prime minister Silvio Berlusconi footing his legal bills. Media say Cattaneo showed back up to cook again yesterday, and an estimated 70 people poured in for a "packed" lunch. Unfortunately, the police report could complicate things in court slightly: It says the burglar was shot in the back, and that his body was found 100 yards away from Cattaneo's restaurant.