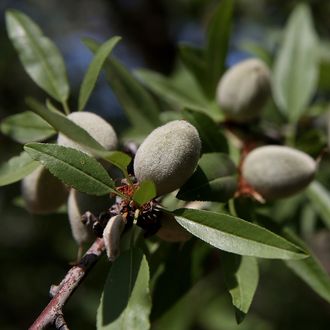 Totally nuts, right?
Photo: Justin Sullivan/Getty Images
California's poor produce cannot catch a break. Just months ago, severe drought had wine grapes withering on the vine, and Americans were worried they'd eaten their last avocado. But now? Record rainfall is killing the state's almonds and salad greens, two foods it's a top producer of. More than 27 inches of rain have fallen this winter, the most ever recorded. Among other problems, that's kept bees from pollinating almond trees like they normally would during the nut's short bloom period.
Obviously, this isn't great news for almond growers like Olam — the world's biggest supplier, which owns some 9,000 acres in California — but its CEO at least is keeping a sense of humor about things. He tells The Wall Street Journal: "Unfortunately I can't give the bees overtime and ask them to work longer and harder." One growers' association estimates that, as luck would also have it, the kind sold for snacking has been hit hardest by the weather. It's not a wholesale loss, but that variety in total is worth about 40 percent of California's $5.3 billion crop.
Almonds drowning in water isn't without cruel irony, of course. The nuts use something like 10 percent of California's agricultural water supply, and have even been blamed for depriving honeybees and salmon of H2O. Lettuce, meanwhile, has no known enemies, and it's equally under threat, thanks to the sudden rain deluge — lots of crops, from celery to strawberries, are in the throes of weird weather right now, but leafy greens in the Southwest are looking especially not good, and California's Salinas Valley produces the majority of them during this part of the year. The country's biggest artichoke producer also warns that everybody should brace now for "supply gaps," and costs on the produce aisle are getting out of whack already: Cauliflower prices have almost quadrupled over the weird winter, and the going rate for a case of romaine is now $50 instead of $12.