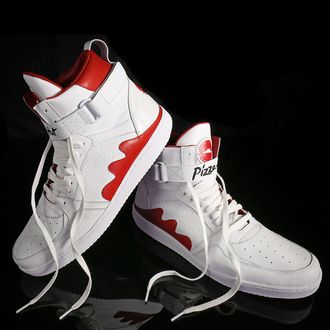 Photo: Pizza Hut/Facebook
Pizza Hut has mastered the art of technology as promotional tool (Facebook chatbots, DJ pizza boxes, scannable arm tattoos, etc.), but the latest product in its line of 100 percent unnecessary gimmicks is particularly baffling, even if you do need some new kicks. The chain has unveiled Pie Tops, a pair of Bluetooth-enabled, pizza-ordering smart shoes. They sync with the wearer's cell phone, and automatically order a large two-topping pizza every time a big red button gets pressed on the tongue.
Pizza Hut is only making 64 pairs for now — not coincidentally, the same number of NCAA teams competing in March Madness. The bulk are promised to "influencers" who can "create buzz and talk value," but a rep for the chain also tells Ad Age that "a select few" superfans will score a pair of their own. NBA legend Grant Hill got himself some just in time for the tourney, and he's already showing everybody how great they are on the court:

The thing is, do you press the button, then just stand goofily in that exact spot until the delivery person arrives? What if somebody accidentally steps on your shoe, placing a large-pizza order? (There's apparently a way to deactivate the tap-order feature, but who's going to do that?) Moreover, do people really need another peripheral that drains their phone's battery life?
Pizza Hut answers none of these important questions, but its clever stunt is a marketing win nonetheless.