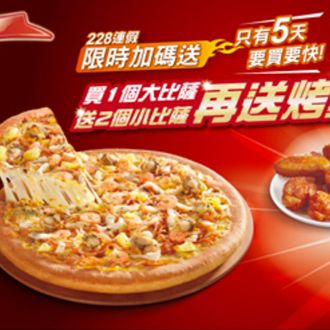 Sad holidays — still a bad occasion to promote your brand.
Photo: Pizza Hut Taiwan
Pizza Hut's Taiwan ad team sounds in desperate need of sensitivity training, a history lesson, or perhaps both. Trying to capitalize on yesterday's big holiday in the country — a day commemorating something known there as the "February 28 Incident" — a Facebook ad posted by the chain offered customers a chance to "celebrate" with some "killer" pizza deals. Problem: That holiday is a remembrance of an uprising that was violently quashed by Taiwan's leader Chiang Kai-shek in 1947. The military killed as many as 50,000 civilians in a brutal massacre that historians consider the start of the infamous White Terror period, which lasted for the next 38 years. It remained a taboo topic until 1995, when the state finally recognized the carnage.

Pizza Hut posted the promo last Thursday to mark the beginning of Taiwan's five-day holiday weekend. It asked if everybody was "Ready to celebrate 2/28?" and managed to work in a line about the cheap pizza deals being some of the most "killer" in history. It racked up over 1,700 comments, almost all of them in Mandarin. Even without translating, it's easy to imagine the tone they struck. Presumably, the vast, vast majority are similar to the handful that English-language publications quoted, which said things like, "I used to go to Pizza Hut with friends often, but what you did today is really awful," and "Many victims' families are still alive, what did they do to deserve treatment like this?" One especially enraged user took things a step further, and apparently issued Pizza Hut a challenge: "I dare you, Pizza Hut, to celebrate 9-11 in the U.S.," the person wrote, "or to celebrate the slaughter of Jewish people in Germany. I dare you."
Pizza Hut has since apologized in the comments below, and updated the ad to just read, "Ready for the holiday?"