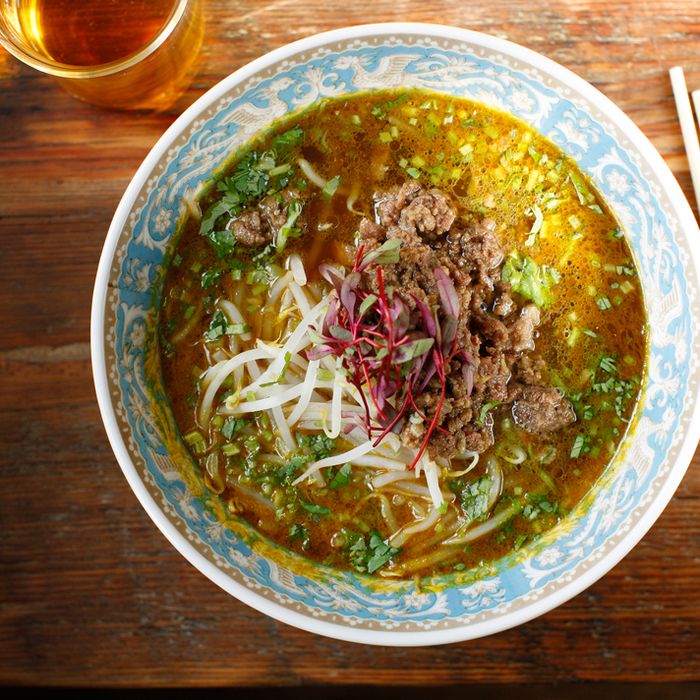 Snow days call for noodles.
Photo: Melissa Hom
Today's blizzard turned out to be … not so historic. So after figuring out what to do with those 16 cases of water and survival packs of food you bought last night, you may be more inclined to brave the wintry mix that's blanketing the city. That said, the weather's still not great, and many New York restaurants closed either preemptively or because the city shut down aboveground subways (not to mention the Metro-North). Maybe you got the day off and want to take advantage of it by visiting that noodle place you keep hearing about. But you don't want to walk through ten blocks of slush and icy winds just to find out your favorite burger spot is closed. With that in mind, here's a list of restaurants that are open today and definitely worth slogging through the storm for.
Manhattan
ABC Cocina
ABC Kitchen
Bar Sardine (dinner only)
Blue Smoke (with a limited menu for lunch)
The Breslin
Brodo
Chinese Tuxedo
Cookshop
Daily Provisions
GG's
Gramercy Tavern (only the tavern is open for lunch)
Il Buco
Il Buco Alimentari
Hao Noodle and Tea
Harold's Meat + Three (with a complimentary fourth side, plus biscuits and dessert)
Hearth
Jean-Georges
Jeffrey's Grocery
Joseph Leonard
L'Amico
Loring Place
Madame Vo
Maialino (bar is open for lunch)
Marta (with a limited pizza menu for lunch)
Mimi Cheng's (both locations)
The Modern (barroom is open, but dining room is closed)
Nakamura
Nom Wah
North End Grill (bar area open for lunch)
Petee's Pies
Per Se
Racines
Rebelle ($5 hot toddys and spiked hot chocolate starting at 5 p.m.)
Salvation Burger
Speedy Romeo (say #SpeedyStellaSnowpocalypse for half-priced hot toddies and White Album pizza)
Tertulia
Two Hands Café
Two Hands Restaurant & Bar
Union Square Cafe (with a limited lunch menu)
Union Square Green Market (tomorrow, with limited attendance)
Vic's
Wagamama
White Gold
Brooklyn
Achilles Heel
Chinese Club
Colonie
The Commodore
Diner
The Drift
El Cortez
Emmy Squared
Emily
Fancy Nancy
Faro
Gran Electrica (with happy hour all night long)
Lady's
Maison Premiere
Marlow & Sons
Mile End
Olmsted (provided the snow stops as expected, the garden will be cleared out and the heat lamps turned on for s'mores and hot cocktails)
Ops
Reynard
Roberta's
Roman's
Rose's Bar & Grill
Speedy Romeo (say #SpeedyStellaSnowpocalypse for a half-priced White Album pizza)
Southside Coffee
Sunday in Brooklyn
Queens
Mu Ramen
This post will continue to be updated throughout the day.