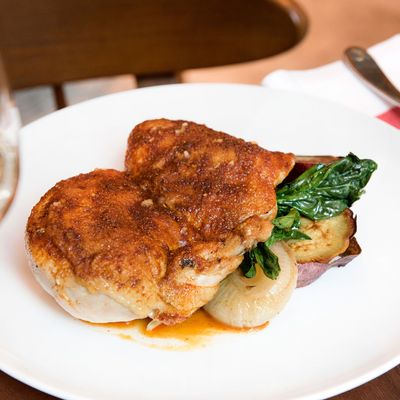 Spiced chicken with white sweet potato.
Photo: Liz Clayman
"Hey, you guys are at my table," one of the grand publishing executives quipped a couple of weeks back as my guests and I sat down to dinner at Danny Meyer's much-anticipated reboot of Union Square Cafe, which opened not long ago in unnervingly spacious new digs on lower Park Avenue. The old restaurant on 16th Street used to be famous as a kind of club for members of the downtown literati, and it wasn't quite clear whether the publisher, who was at the next table, was joking or actually wanted his old table back. Either way, you had to admire the Meyer genius for creating the brand and customer loyalty that began with that quirky Off Broadway production more than 30 years ago. Yes, the famous menu had been slightly tweaked for this more-mainstream debut, and the barn-size space, on 19th Street, was clearly designed for a much larger audience. But like fans at the latest revival of Cats, the die-hard regulars didn't seem to care. They were still jockeying for the best seats in the house night after night.
Unlike on Broadway, revivals tend to be a tricky business in the restaurant world, where the casts in the kitchens come and go, and it's almost impossible to re-create that organic sense of intimacy and place that makes a restaurant special to begin with. But Meyer and his team do a diligent job of sprinkling some of the old magic fairy dust around the set of this more populist production. The floors of the double-height room are covered in finished cherrywood, just like in the old joint, and the original '80s-era artworks (a Frank Stella print, those zany watercolors of bowls of fruit) adorn the walls. Like the old space, the new one has two levels, although the mezzanine includes rows of tables, private dining rooms, and a second, more intimate bar, which is built for dining, like the one downstairs, and has been fashioned with wood salvaged from the iconic bar on 16th Street.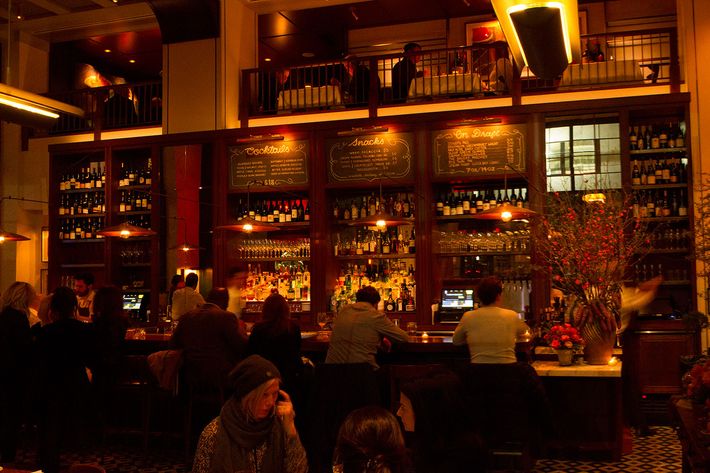 Dining at that famous 16-seat bar was one of the central pleasures of the original, of course, and it amplified the pleasures of the restaurant, which fused big-city sophistication with a clubby, insider spirit that made you want to return for that tuna burger (or Bibb-and-oakleaf salad, or fried calamari with anchovy mayonnaise) again and again. That feeling is gone forever in this new neighborhood, in this much larger cruise ship of a space, although I'm happy to report that the tuna burger I sampled one afternoon at the bar upstairs actually seemed to taste better than the original (instead of roughly chopped tuna, the patty is shaped from tender slices of yellowfin). So did the calamari (it's tossed now with scallops and snapper and shingles of roasted red pepper) and the ritual pre-meal chunk of bread (a sweet, chewy filone on my visits), which benefits from the presence of the restaurant's first-ever in-house baker.
Like tuna burgers, in-house bakers aren't much of a novelty these days, but Carmen Quagliata, who ran the kitchen at the last restaurant, does a good job of preserving the familiar sensibility of the original Mediterranean-themed menu while reworking it in a variety of subtle, newfangled ways. You can now enjoy a crostone decked with ribbons of pleasingly smoked duck breast with your Bibb-lettuce salad, along with one of the better Italianate iterations of steak tartare (grandly titled "Sushi del Chianti al Modo di Panzano") in this tartare-mad town. Thanks to a larger staff in the much larger kitchen, many of the artful, carefully worked pastas seem to have an extra ingredient or two, although the most successful ones tend to be simple classics, like wonton-thin tortelloni I sampled one evening, which were brought to the table floating in a bowl of golden Heritage-chicken broth threaded with bits of Swiss chard.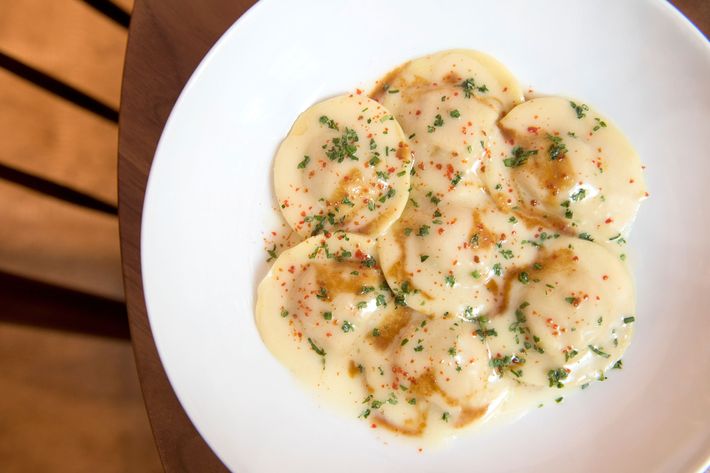 This kind of old-fashioned comfort, artfully done, is one of the foundations of the Meyer vision, of course, and it shows up in the larger entrée dishes, many of which are sturdy enough to send even the most experienced fresser off for a long digestive nap. "That's a nice-looking shank," one of these fressers said as we eyed a substantial, well-braised joint of lamb, garnished with a platoon of roast potatoes and a generous wad of bright, freshly made salsa verde. The de rigueur Union Square pork rack (with shell beans, apples, and kale) was also impressive in its quality and size, although if you're a little weary of de rigueur pork chops cooked in the Tuscan style, like I am, try the chicken instead (it's spiced with cumin and chile peppers over slices of sweet potato), or the delicate red snapper, which is served with puntarelle and crushed chickpeas and enlivened with a few drops of orange-flavored chile oil.
Will this stolid Danny Meyer production keep the regulars in their seats while spreading the updated joys of the original show to a new audience? A few of the die-hards at my table weren't so sure, although judging by the throngs who milled about the big hall on my visits, the venture (which will soon be joined by a traveling company in Washington, D.C.) is off to a good start. Like much of the new menu, the dessert list is built with comfort, sophistication, and repeatability in mind. If you're feeling wistful for the old days, I'd recommend the panna cotta, preferably at lunchtime, at the little bar upstairs. Newer options include pumpkin-bread pudding and a nice banana tart, although the one to get is the chocolate-pecan tart, which is flavored with bourbon, layered with chewy deposits of caramel, and served with a crowd-pleasing scoop of coconut ice cream on the side.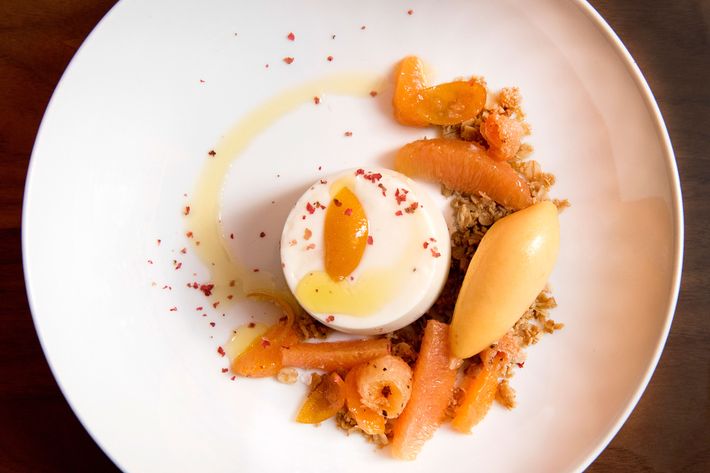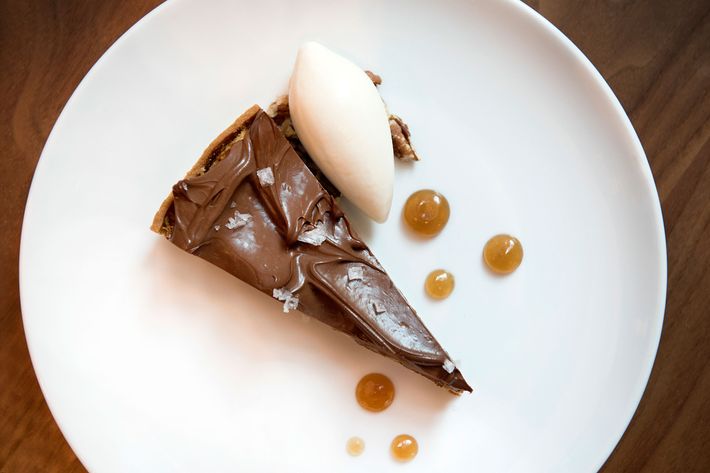 Union Square Cafe
101 E. 19th St., at Park Ave. S.; 212-243-4020; unionsquarecafe.com
Ideal Meal: Mackerel crudo or Panzano beef tartare, tortelloni or lobster ravioli, spiced chicken or red snapper, chocolate-pecan tart.
Note: The quality of hospitality and service is as high as ever in this latest Danny Meyer no-tipping establishment.
Open: Dinner daily; lunch Monday to Friday; weekend brunch.
Prices: Appetizers, $13 to $21; pastas and entrées, $18 to $46.
Scratchpad: No, you can't go home again, but you get points for trying. One star for the familiar, well-executed lunch menu and another for dinner.
*This article appears in the March 20, 2017, issue of New York Magazine.