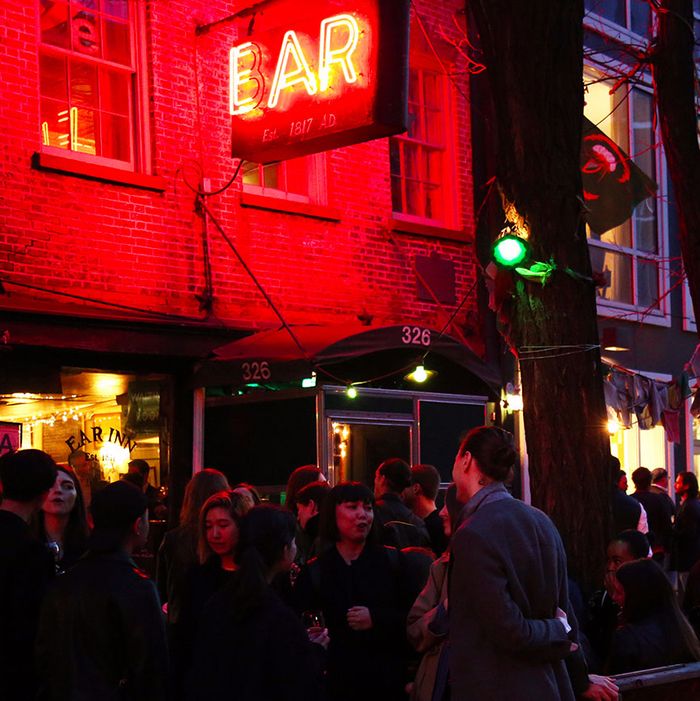 One of the very best bar signs anywhere.
Most owners would go all out for their business's 200th anniversary. Martin Sheridan is not like most owners. The 67-year-old, first-generation Irish immigrant has operated New York's Ear Inn since 1977, and this year, the saloon will hit the double-century mark. When asked about his plans for the bicentennial, Sheridan offers: "Well, we still have live jazz on Sundays. Does that count?" When pressed, he says that some plans are afoot, but there's nothing concrete as of yet. In many ways, the low-key approach to the entire situation is why Sheridan's bar has remained a sanctuary, even as New York continues to change around it.
The Inn itself is a crooked, sunken-ceilinged, warm blanket for its fiercely protective — sometimes snarly — regulars, who actively ensure that the tavern never becomes a historical tourist trap like your average McSorley's or P.J. Clarke's. One of the few remaining examples of Federalist-style architecture left in the city, the entire property at 326 Spring Street is known as the James Brown House — though it has nothing to do with the Sex Machine of the same name.
The James Brown in question was a tobacconist whose legend has grown substantially over the years. Some say he was also an African-American aide to George Washington during the Revolutionary War, and local legend maintains he's the only person of color depicted in Emanuel Leutze's "Washington Crossing the Delaware" — though there's very little actual evidence this is the case. Nevertheless, according to Sheridan, a forensic engineer at the NYC Department of Buildings dated the woodwork at the site back to the 1770s or 1780s, and Brown did set up his tobacco shop in 1817 in the Spring Street building, which over the decades went on to house many bars.
As with many stories that have been told in drinking dens over a very long time, the exact details are, at best, fuzzy, but what we know for sure is this: The establishment's overall look has remained relatively unchanged since Brown first came to New York. That's no small feat when you consider the sad fact that even the supposedly 298-year-old Fraunces Tavern was essentially rebuilt from scratch in the early 1900s.
It was under Sheridan's ownership when the tavern (formerly known as the Green Door because, well, it has a green door) got perhaps its most famous design detail: The BAR sign with half of the B blacked out — making it an E. That not only served as an ode to Ear magazine, a music-themed monthly that was at the time published upstairs, but also helped avoid having to get a permit from the Landmarks Preservation Commission for a brand-new awning (smart and lazy!).
Martin also used to rent the second floor to a therapist, which is now decorated with hundreds of 18th-century pipes, bottles, and other archaeological oddities found during various renovations: A 19th-century revolver was discovered on an old Ear ceiling. "We also found an early 1800s abortion kit," Sheridan says. "Which sadly makes sense because of, you know, the whore area." (The third floor — if you can call the five-foot-tall attic a "floor" — was a brothel in the mid-19th century.)
What the Ear is now, though, is a gathering spot for regulars who are resolute in their desire to keep things more or less the same. One magazine editor, Amy Gubner, held a post-wedding party at the bar in question. "It's tiny, but there's room for everyone — it's also just plain perfect." There are also stories of A-listers who drop in when they hope to keep a low profile.
"Matthew Broderick and Nathan Lane came in and got shit-faced while a limo waited outside," recalls Julie Worden, a bartender who's been tolerating the tippled at Ear for over five years now. "There's nothing subtle about those two." Dan Aykroyd and John Belushi came in during their SNL days; Bill Murray has stopped by; Paul Rudd, who lives nearby, is a regular; and John Lennon left the Dakota to drink at the Ear throughout the '70s.
But the thing about the Ear is, they generally have a "be cool" approach to celebrities and, really, anyone's welcome. Venture past its emerald-colored entrance, past the "no cellphones" sign and ATM housed in an ancient phone booth, through the sailor-themed décor (a nod to the joint's long-gone longshoremen locals), and grab a paper-covered table, where you'll find crayons for big and little kids alike. Order a Guinness and a burger — which is superior to the product peddled by P.J. Clarke's, by the way — and embrace a part of New York that remains resolutely, and perfectly, resistant to change.