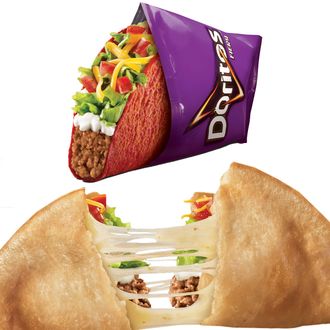 Together at long last.
Photo: Taco Bell
Now that the Naked Chicken Chalupa's run is almost up, Taco Bell is giving the people a new Frankenfood: A thing that's effectively its two most popular tacolike items rolled into one.
The chain explains that the so-called Doritos Quesalupa Crunch is the "ultimate collision" of a Doritos Locos Taco and the Quesalupa. It achieves this collision Cheesy Gordita Crunch–style: A DLT shell gets little-spooned by a puffy Quesalupa shell, creating a reinforced layer for holding the Bell's taco standards (seasoned beef, lettuce, and shredded cheddar). Quesalupa shells already ooze with melted pepper jack, but this item works a nacho cheese sauce in as well, used to, in the O.C. Register's words, "keep the two shells bonded" like Elmer's glue.

It's basically another duh mash-up for the people who can seemingly do no wrong cranking out ridiculous taco shells or adding more cheese. It comes in Nacho Cheese, Cool Ranch, or that Fiery flavor, and is being tested in Cincinnati starting tomorrow for $3.49.