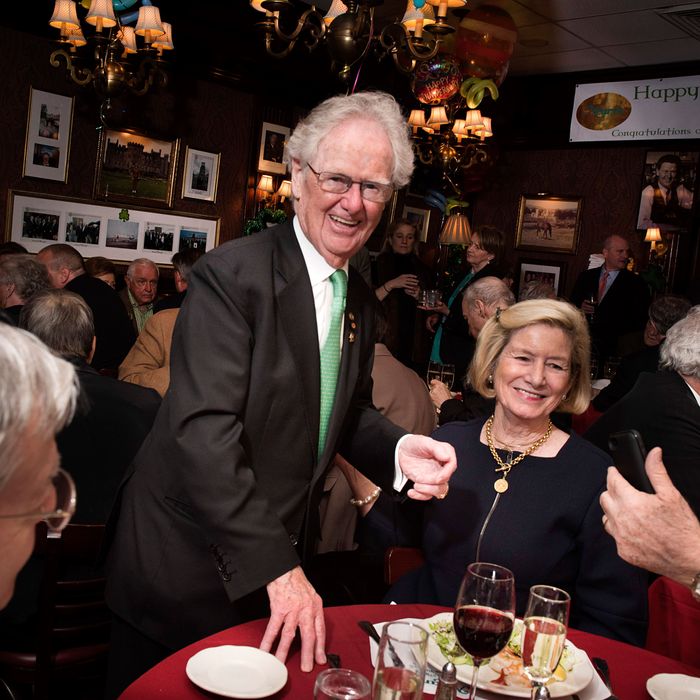 Jimmy Neary holds court at the pub he's owned for half a century.
Photo: Liz Clayman
The countdown clock that hangs above the bar at Neary's, the Irish pub off East 57th Street, ticks down the days, hours, minutes, and seconds until St. Patrick's Day. It's always the busiest day of the year at Neary's, but as any of the east-side staple's many regulars will tell you, this year is especially significant: The pub, which has long been an important gathering spot for all sorts of New Yorkers, will spend this St. Patrick's Day celebrating its 50th anniversary.
Not much has changed at Neary's since it opened on St. Patrick's Day, 1967. There's a 1954 NC cash register that's still in use, the famous cherry-red leather booths came with the place, the menu has literally never changed, and the bill delivered to each customer is still written out by hand. Only four chefs have ever run the kitchen, and servers stay on for decades. "We've stood still in time," says Mary O'Connor, who has worked as a waitress at Neary's for 39 years. "Don't change anything that works," she adds. "People don't like change."
There are 12 seats at the bar, and up to three nights a week, Don Warner can be found at one, sipping Scotch and chatting with the other customers. Liora Michelle is another regular, an opera singer who's studied her scores at Neary's for the better part of a decade. Michelle and Warner have become friends over the years, and the entire place feels a bit like the Sutton Place version of Cheers: Everyone seems to know everyone else's name.
Overseeing it all — the guiding hand of the pub's never-change m.o. — is Jimmy Neary, a five-foot-three Irish immigrant who spends evenings making his rounds, pulling out chairs for guests and encouraging them to eat their lamb chops the proper way (with their hands). He turns 87 this year, and he still has a lingering brogue in addition to his white hair, sharp suits, and wire-rimmed glasses. He never dreamed of owning a restaurant, and admits he can't cook ("I don't even know how to make a hamburger"), but Neary bought the space in 1967 after he and a friend, Brian Mulligan, saw a classified ad in the Times. The two worked as bartenders at P.J. Moriarity's at the time, and the space had previously housed three failed restaurants. Neary made the decision to take over the space — a decision that would largely define the next half-century of his life — by happenstance. Mulligan happened to be carrying a copy of the Times with the ad. "We happen to look on it," Neary says, "saw this place, met the guy on Monday evening, put $500 down, and the rest is history."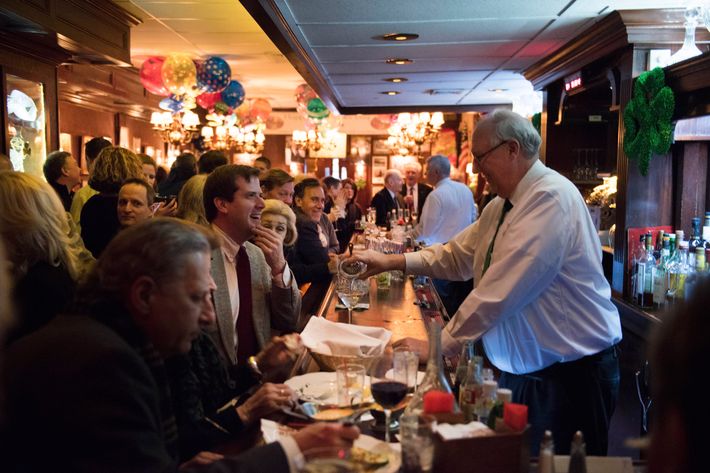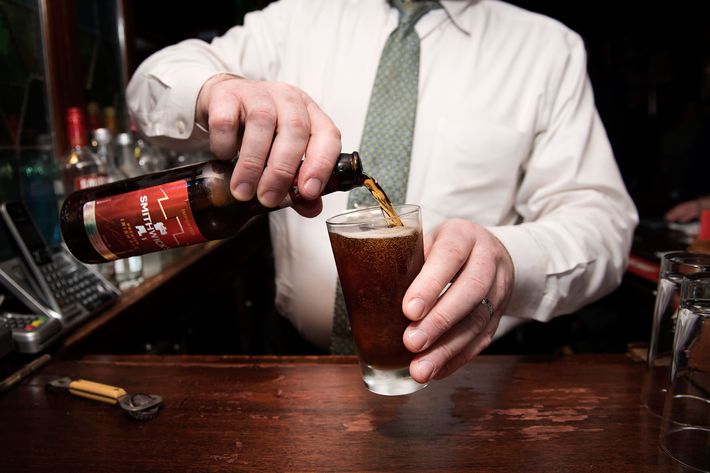 Neary got the chance to buy the building in 1986 — the same year Mulligan passed away — when his landlord offered it to him for about $1.4 million. He accepted the offer immediately — securing the money from Bill Burke, the president of the Bank of Ireland at the time — before calling home to tell his wife what he'd done. Buying the building, of course, protected Neary and his business from the rent hikes that have plagued so many of New York's other beloved watering holes. "You can only raise the prices so much," Neary explains, before pointing out that he's seen at least 15 places open and close across the street.
Over the years, the bar has become somewhat legendary as one of New York's go-to throwback Irish-pub experiences, the authentic, high-class version of the Disneyfied "pubs" that now litter midtown with faux-vintage Guinness ads. (Neary's has also recently become somewhat well-known as a safe haven for Trump supporters in New York, but one could argue that's largely because of Neary's desire to treat every customer equally, regardless of their political leanings.)
The pub has also become famous for its many regulars: Michael Bloomberg; late Giants owner Tim Mara; and Mary Higgins Clark, who writes Neary into her novels. If that list of customers doesn't exactly sound like a who's who of the downtown party culture, that's because the bar has always catered to a somewhat well-heeled audience. Neary says he's never taken a reservation, no matter who's asking, but the regulars, nevertheless, have a close relationship with Jimmy and his family. "People enjoy the food, they enjoy the company, and they enjoy our staff," says Jimmy's daughter, Una Neary. "The one person that they're in to see is my dad — he just has a presence." That said, Una is something of a Neary's celebrity herself; she's a partner at Goldman Sachs who still works at the bar on weekends, or whenever a waitress is needed. At this point, she's as much a part of the bar as Jimmy himself.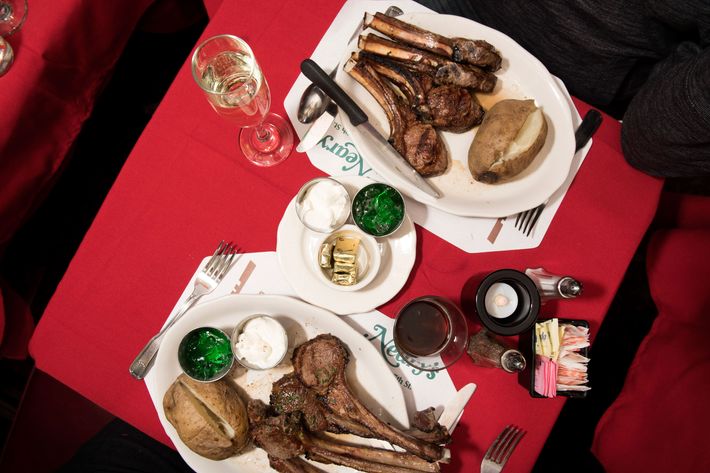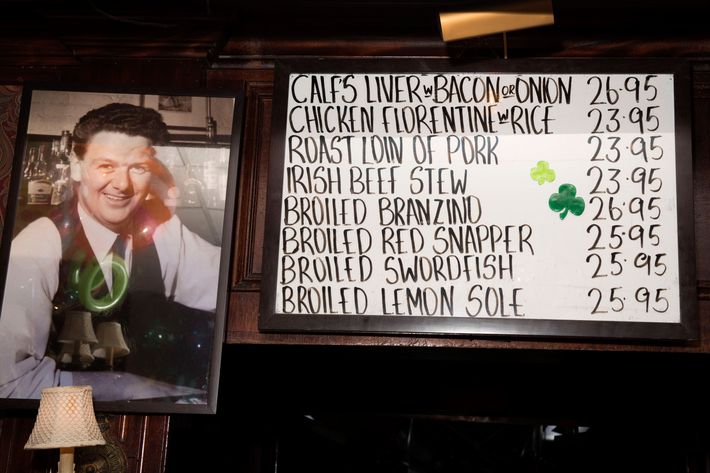 It's true that the menu, which leans heavily on classic comfort food, probably doesn't convince food explorers to check out the culinary expertise that's on display, but everything here is just as it should be. Aside from the lamb chops, a house specialty, there's corned beef, as you'd expect; along with a selection of broiled seafood; several steak options; calf's liver; and homemade rice pudding for dessert.
Mostly, Neary's still exists to serve the same purpose as all of the best public houses: It's a gathering place that's comfortable, and perhaps even more important, reliable. In its 50 years of existence, Neary's has been closed exactly 52 times: every Christmas, and for two days following the death of Jimmy's wife. It's the kind of place that's always there, and where you'll always run into someone you know — most likely Jimmy, a consummate host who, half a century in, has no plans to retire. "I wouldn't give it up for all the money," he says. "What would I do? I'd be bored out of my mind."