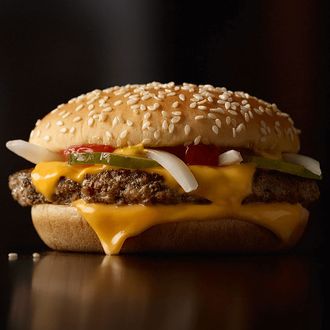 Now far less of a hockey puck.
Photo: McDonald's
By the middle of next year, Quarter Pounders might taste a little bit more like ShackBurgers and In-N-Out Double-Doubles. The chain announced today that fresh beef patties will finally roll out nationwide, after about a year of tests in Texas and Oklahoma. The monumental change affects only Quarter Pounders for now, but should be the new normal at most U.S. locations a little over a year from now. The beef will be cooked to order, and will also be a Signature Crafted option for people who customize their sandwich on a kiosk. Other burgers that use smaller patties like the cheeseburger, McDouble, and Big Mac (name notwithstanding) will continue using frozen beef.
In theory, it will look something like this:

Franchisees — an easily frustrated bunch, frankly — do not all approve of this change. Many started lodging complaints as soon as news came out about the fresh-beef tests. Some cited concerns that raw meat would grind service speed to a halt, or be an "opportunity for bacterial invasion of our product" (cue Chipotle-y nightmare scenarios in their heads). Another franchisee rejected it purely on the grounds that it was "no doubt the biggest change in McDonald's history. Would be a huge distraction from our 'turnaround.'" But the company says customer feedback at the 325 test locations was "overwhelmingly positive," unsurprisingly, so this switch to unfrozen beef is an example of another "customer-led" initiative. The last one of these the chain instituted was all-day breakfast, and, well, look how nicely that worked out for everybody.

Maybe in a more serious sign this is something major, it seems Wendy's has already broken into a sweat. Fresh (albeit square) beef is the trump card it's pulled for years on Mickey D's, so the rival burger-maker's Twitter account, often a force to be reckoned with, went straight for the jugular: