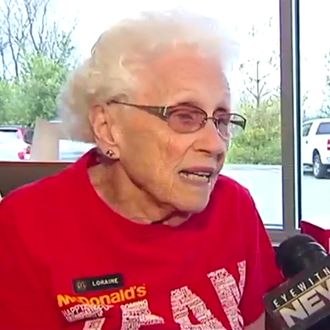 Just another day on the job.
A McDonald's in Evansville, Indiana, employs a 94-year-old named Loraine Maurer who's in her 44th year of working for the chain. She started making the local news last week when there was a big party for her work anniversary, complete with a cake bedecked with a picture of the Golden Arches.

She told People she's "been eating McDonald's for every shift throughout the decades," and if she's sick, somebody usually brings McDonald's by the house. The Filet-O-Fish has been her go-to over the years, but she says, "Now I work mornings and there isn't anything I don't like." And per WEHT, she's been "serving friendship" at McDonald's since 1973. The career has required her to work at "a number" of Evansville locations — though these days, she'll only work at the one by her home and church. People love "Miss Loraine," the franchisee says, because she makes everybody "feel special" and can "tell stories about McDonald's from 44 years ago or five minutes ago." She apparently has a thing for giving customers hugs, which sounds pretty heartwarming on the one hand, enough to get her story picked up by everybody from Fox News to Refinery 29 (which commends Maurer's "commitment and hard work." Then notes: "If only everyone wanted to remain at their job well into their 90s.").
Others, apparently, just see America being made great again:
But, of course, on the other hand, her story does come in the middle of a big push to pay fast-food workers a living wage, and a fear Republicans might try to roll back entitlement programs so that pretty much all Americans work into their triple digits. Plus, a few other concerns captured in a tweet this morning that's since accumulated 2,600 likes:

For her part, Maurer (who says she's also visited McDonald's in Greece, Russia, Australia, and Rome) explains she "didn't come to stay" for 44 years — basically what happened was she "just needed something to do after my husband had to retire," and, well, now here she is. But she does add that she "never plans to leave."