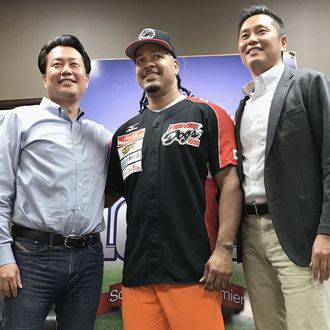 He's hungry already.
Photo: Kochi Fighting Dogs
Pro-ball players are master contract negotiators (Roger Clemens once got his sons a locker in the Blue Jays clubhouse next to his), but the deal retired all-star Manny Ramirez signed to swing a bat in Japan's independent league is truly next level. To play for the so-called Kochi Fighting Dogs, the former Red Sox slugger secured the following perks: One, he gets chauffeured around Japan in a Benz. Two, he's staying at a $700-a-night luxury hotel. Three, he'll be wearing a No. 99 jersey with "Manny" on the back. Four, practices "are apparently optional." And five (which let's assume was the clincher), he gets all the free sushi he can eat for the entire season.
According to Japanese sports site YakyuDB.com, the contract reportedly just says "unlimited sushi," suggesting he can also get it from wherever he wants. Time to put Sukiyabashi Jiro on speed dial.