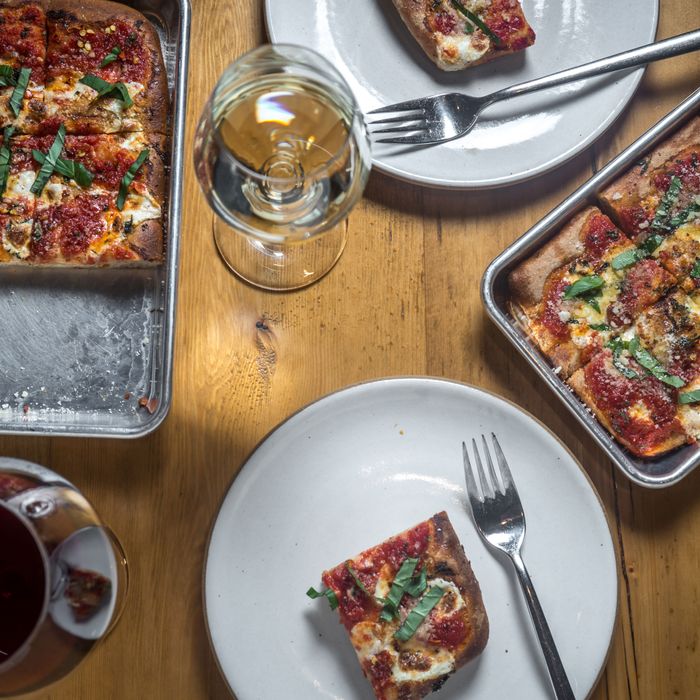 That the trend in pizza is currently toward the square has not escaped the notice of Dan Kluger. Two weeks ago, the Loring Place chef-owner surveyed the pizza section of his menu and found it lacking in something "really simple" to counter the slightly out-there round-pie offerings, like the one with Brussels sprouts, garlic, jalapeño, and cheddar.
"How about a nice margherita?" a member of his kitchen staff suggested.
"Too simple," said Kluger, who wanted something more substantial.
A light bulb moment came when Kluger, who grew up a member of the Sicilian-slice cognoscenti in Manhattan, recalled a grandma pizza he'd tasted recently at a kids' birthday party in Brooklyn. The difference between that catalytic Brooklyn pie — or, say, the square slices at King Umberto's in Elmont — and a Loring Place grandma pie is that the latter is made with a mix of organic white plus locally grown, house-milled emmer and heirloom, hard red-winter-wheat flours. It's topped with Jersey Farms Crushed Tomatoes, Murray's mozzarella, garlic, basil, dried chiles, and a sprinkling of Parmesan, and it arrives at the table in a miniature sheet pan, six squares per serving.
So how's the crust? Pretty much perfect, with a crisp but springy texture and a toasty, earthy, intensely fresh-flour flavor that won't quit. Just like Grandma never made.