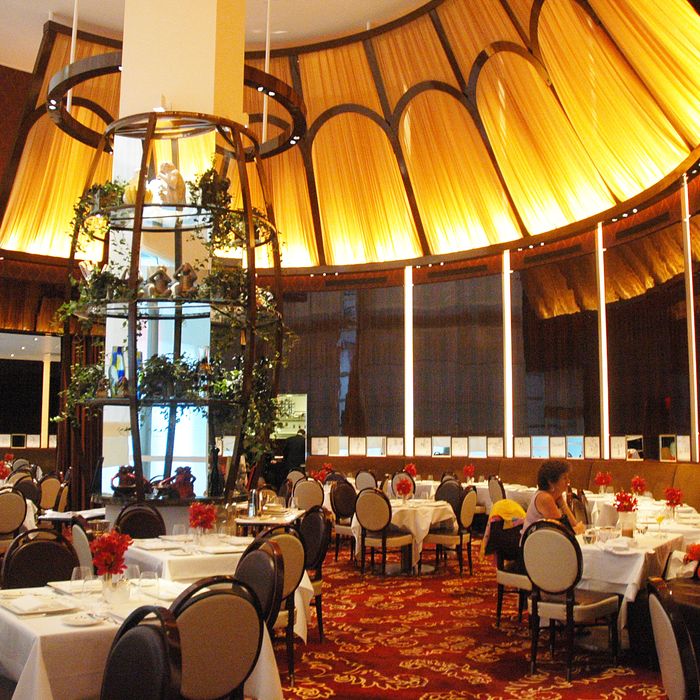 An empty dining room might be in the restaurant's future.
Photo: Jennifer MacFarlane
This week has not been kind to 43-year-old Le Cirque, one of New York's classic French restaurants that many (still) consider an institution: First, "Page Six" reported that founder Sirio Maccioni and his son Mauro filed for Chapter 11 bankruptcy, revealing that they owe between $500,000 and $1 million to up to 100 creditors. "We had a short-term cash-flow issue so we filed for Chapter 11 to ensure we would not lose the leases on the two restaurants," Mauro told the paper, promising that both Le Cirque and Circo (which the Maccionis also own, along with international Le Cirque outposts) would remain open — business as usual.
But then, yesterday, Le Cirque's head chef, Tom Valenti, resigned with a one-sentence statement to Eater: "I wish the Maccioni family only the best."
While this is certainly a time of crisis for the Maccioni family, Le Cirque has actually had a rough few years: In 2012, New York Times critic Pete Wells demoted the restaurant to one-star status, writing, "These are not the best of times at Le Cirque, and I could never square what I'd eaten with what I'd been asked to pay for it." This led to early bird discounts. Two years later, it faced a class-action lawsuit for multiple wage violations; and then, two years after that, a sexual-harassment lawsuit.
Still, Le Cirque has historically bounced back from all setbacks. After all, Sirio Maccioni has relocated the restaurant three times — most recently to the Bloomberg Building in 2006. Celebrities like Howard Stern and Alec Baldwin have stayed loyal to the restaurant, which also helped launch the careers of chefs Daniel Boulud, Bill Telepan, Michael Lomonaco, and David Bouley.
But regardless of legal troubles, it's simply hard for this kind of ornate, old-school, romantic French restaurant to hold the same allure and survive in New York. A sampling of notable French restaurants that have closed in the aughts: Alain Ducasse's Adour, Alain Allegretti's Bistro La Promenade, Keith McNally's Pastis, André and Rita Jammet's La Caravelle, Jean Jacques-Rachou's La Cote Basque, Jean Michel Bergougnoux's L'Absinthe, the International Culinary Center's L'ecole, Amadeus Broger's Le Philosophe, David Waltuck and George Stinson's Elan, Philippe Lajaunie's Les Halles Brasserie, and Georges Briguet's Le Perigord.
That said, Le Coucou, an elegant French restaurant, was New York's biggest restaurant success story of 2016. If Le Cirque wants to make a real comeback, the Maccionis need to, of course, pay its debts, but also — perhaps just as importantly — find a chef who can refresh the menu at this 43-year-old restaurant without losing touch of what makes Le Cirque historic. That's a tall order, given the nature of the restaurant's current, longtime clientele and ownership's seeming reluctance to rock the boat too much. Unless something happens, though, it's impossible to imagine too many new diners who will be willing to spend the necessary money to try it out.