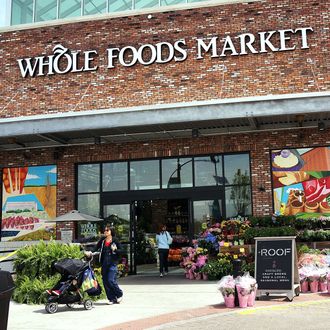 Stores sales fell 2.4 percent last year.
Photo: Spencer Platt/Getty Images
New market data has somehow managed to make Whole Foods' beleaguered lot look even worse. On top of reports last week that rival Albertsons was sniffing around Sprouts Farmers Market, an upstart organic grocer and wellness store whose prices are about 19 percent cheaper on average than Whole Foods, there are now some new numbers suggesting the high-end grocery chain is also still hemorrhaging shoppers. Foot traffic has dipped once again, Barclays analysts note, straight-up describing the magnitude this time as "staggering." Technically, it's 3 percent, which can make "staggering" seem a little far-fetched — until you consider it translates into 14 million lost customers who would've spent an average of between $30 to $50.

An even harder pill to swallow? Those shoppers had to go somewhere, and it looks like Kroger — not a place most people visit for their kale ice cream or tofu-ginger rice muffins — is the primary benefactor. It now has multiple aisles of natural foods (many of which are available under the company's own organic house brand, Simple Truth), as well as a formidable selection of organic produce. Prices are, no surprise, less than the cost of similar items at Whole Foods; and that no doubt partly explains why, per Barclays's figures, Kroger did $16 billion in organic and natural-food sales last year, while Whole Foods did just $15.8 billion. (This is a little apples to oranges, since Kroger has 2,796 locations and Whole Foods has 462, but still.)
It's not as if Whole Foods isn't trying. The company's lower-price 365 spinoff line was created specifically to neuter conventional supermarkets, which CEO John Mackey admits, "have upped their game." He's added that they're "going to do the best job that we can" to keep people from "migrating back over to those guys," but data suggest a migrated customer is a gone customer. "As most retailers know," the Barclays report says, "once traffic has been lost, those patterns rarely reverse."