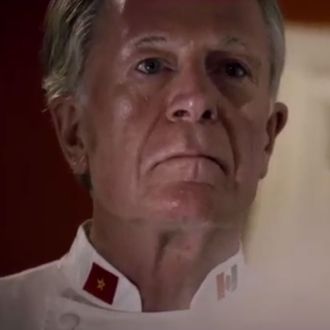 "We should know who changed the world."
Almost a year after debuting at film festivals, executive producer Anthony Bourdain and director Lydia Tenaglia's documentary, Jeremiah Tower: The Last Magnificent, will hit theaters next month — premiering in New York and Los Angeles on April 21.
The film explores Tower's successful yet mysterious career in cooking: He's credited by many as a chef who revolutionized cooking in this country, yet his name remains unknown to many people outside the industry. He first made a name for himself at Chez Panisse in 1972, but left after a dispute with owner Alice Waters, eventually opening Stars Restaurant in San Francisco to international acclaim. But after a few years, he left Stars, too. More than two decades later, he returned to professional cooking for a stint at New York's fabled Tavern on the Green.
Tower may not get the same recognition as his contemporaries, but as Bourdain explains in the trailer, "We should know who changed the world — we should know their names." Interviews with Mario Batali, Ruth Reichl, and Martha Stewart reinforce Tower's role as one of the founding fathers of American food. Check out the first trailer here: