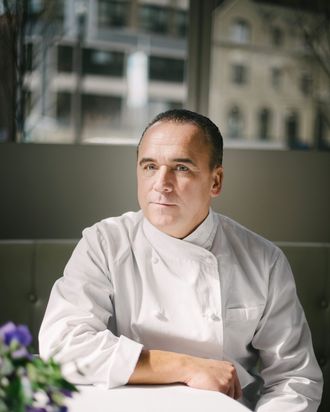 Jean-Georges Vongerichten, in the dining room of his flagship restaurant.
Photo: M. Cooper
Time is often unkind to restaurant fashions of decades past. Like scrunchies and sun-dried tomatoes, what once was trendy can now seem dated. Twenty years ago, when the rest of us were wearing Girbaud jeans, Jean-Georges Vongerichten built a restaurant that seemed — and still seems — almost effortlessly stylish. Much has changed since Vongerichten and his brother Philippe opened Jean-Georges on March 17, 1997, and yet, little has, too. The chef, still spritely, is only slightly more lined. His empire has expanded into a powerful international dining body that now includes more than 30 restaurants, but here, at the mother ship, the 65 seats are still filled nightly and the stars still shine.
The conversations were hushed and the banquettes were plush as dinner service unrolled smoothly on a recent Friday night. People were celebrating, and many tables ordered both the current winter tasting menu, as well as "Jean-Georges's Menu," a collection of the restaurant's greatest hits. As dishes from each were presented side by side, it was hard to tell which came first: diver scallops with cauliflower and a caper-raisin emulsion from the classic menu, or scallop sashimi with chives and black-truffle toast.
But as Jean-Georges and Nougatine, the less formal café attached to the restaurant, remain a constant, the world around these dining rooms swirls. And the restaurant, housed on the ground floor of the Trump International Hotel and Tower, has not remained immune from the politicized climate. (After Donald Trump, Mitt Romney, and Reince Priebus dined there in November, protesters staged a cough-in to protest the repeal of the ACA.) On the opening day of the chef's newest restaurant, abcV, I sat down with Jean-Georges, Philippe, and business partner Phil Suarez, to look back on 20 years of Jean-Georges.
Today you're opening abcV. Tonight you're flying to Malaysia. You have over 30 restaurants across the globe. Many chefs who have empires like yours began with a flagship and trickled down. But for you, Jean-Georges didn't come first. Why was that?
Jean-Georges Vongerichten: I arrived in New York from Boston in 1986 to work at Lafayette, chef Louis Outhier's restaurant at the [now-demolished] Drake Hotel. After my contract was up, I decided to stay here and go out on my own. That was in 1991. I had met Phil [Suarez] at Lafayette. He used to eat there all the time. He always said, "Why don't we do something together?" Finally I was ready.
From the start, I wanted to do fine dining. We began planning Jean-Georges back then. Phil took care of the money. I was focused on the food, and I called my younger brother Philippe to come help me build the place out. But then the Gulf War began, and Wall Street crashed, and it suddenly didn't seem to be the right time anymore for another fine-dining restaurant.
Phil Suarez: You have to remember, there was a lot of unsteadiness in the city, in the country, and in the world at the time. The bombing of Kuwait had just begun. People weren't spending. People weren't building. So we decided to open JoJo, which had pretty much the same food and same feeling as Jean-Georges, but at a fourth of the price. It turned out to be a wise move.
Philippe Vongerichten: In 1991, I was living in Strasbourg, where we're from, and working as a furniture designer when JoJo, which is my brother's family nickname, called me at the end of 1991. He said, "I just signed a lease on a restaurant, and I need help putting it together. When can you get here?" I said, "I have no idea about restaurants." He told me not to worry, he'd teach me. So I said, "When do you need me here? I'll come."
JoJo is seven years older than me. So when he left to do his apprenticeship at age 15 at Auberge de l'Ill, I was only 8. We never really grew up together, except the occasional holiday. We didn't really discover each other until we opened the restaurant.
JGV: After the success of JoJo, we opened Vong in 1993. But by 1995 or so, I realized how much I missed the high-end. So we began looking for a home for Jean-Georges.
And that's when you found the Trump International Hotel and Tower.
JGV: You know what? The location picked us, not the other way around. One morning, I was on the phone with the architect Philip Johnson, he said, "You gotta come see this place I'm designing on the West Side." So we went.
PS: That whole neighborhood was pretty lousy at the time. The New York Coliseum, the old convention center, was closed, but not yet demolished. It was really desolate. But GE and HRH Construction were building a hotel, residence, and restaurant tower over the skeleton of the Gulf Western tower. Donald [Trump] was already involved in some capacity. So I got an audience with him through his executive secretary, who was a great fan of Jean-Georges, and said we were interested.
JGV: They were already entertaining other chefs. I think Victor Drai from Drai's in Vegas was in the running, and David Bouley, too. Originally, they wanted to have a restaurant on the top floor, but it was just too complicated and shook all the time. I thought it made more sense to have the restaurant on the first floor.
PS: Back then, we dealt mostly with GE, who owns the building. But we actually just renegotiated a long-term lease right before Donald became president. Just me and Donald, one-on-one.
Is he as good a negotiator as he says he is?
PS: He's tough, but fair. And he knows we add a lot to the value of the property.
Might it not be time to revisit the arrangement, now that he's president?
JGV: Yeah, we shouldn't have to pay rent for four years.
More in terms of politics. Could you ever foresee Trump doing something so outrageous that you would feel morally obligated to move Jean-Georges, lest you seem complicit, or at least tacitly endorsing his actions?
PS: No. We keep our personal feelings out of it. This is business.
JGV: Well, if he gets rid of immigrants, he'll have to find another tenant. Our kitchens will be empty. Those are our cooks. There won't be anyone to prepare the food.
PS: True. But that's not personal, either. That would be an example of his policies affecting our ability to operate a business.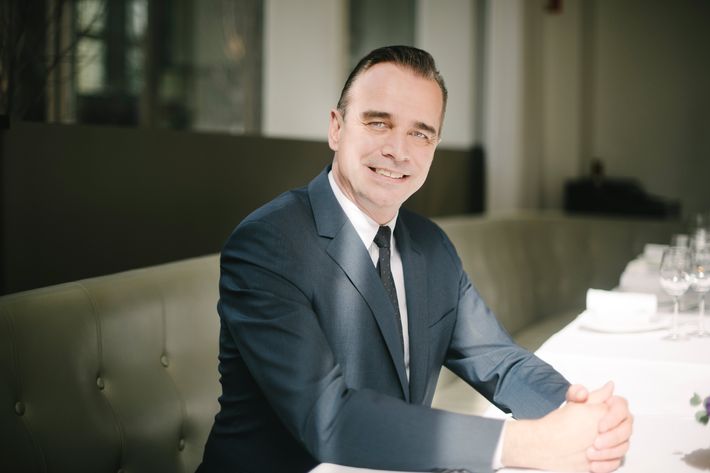 Jean-Georges was immediately popular. Ruth Reichl gave it the first of three New York Times four-star reviews three months after the restaurant opened. What do you think was the key?
PV: In terms of service, most of the fine-dining restaurants back then were what I call "plate droppers." A patron would order, a waiter would drop the plate, and that was that. There was no finishing sauces at the table or tableside preparation. All the action was in the kitchen. Jean-Georges wanted to bring the smells back to the dining room. So we carved everything from rack of lamb to pineapple tableside. We brought vegetables in cloches. We poured sauces tableside. This required a lot of expertise in the front of house since, essentially, we relied on servers to put the finishing touches on the plate.
JGV: People always liked JG because of Nougatine. There are so many high-end restaurants where, when you walk in, you immediately feel it's stuffy. But because you walk through Nougatine to get to JG, it always feels like a Friday night. It was chill. Also, even if you look at Ruth's review, we were foraging before foraging was trendy. We did it out of necessity. Back in 1997, the Greenmarket in Union Square was just, like, a couple of guys. I remember a farmer coming to me with a seed catalog and asking, "What do you want me to grow for you?" I said, "grow all of it."
What do you think has been the key to the restaurant's longevity?
JGV: We survived two wars, three crashes, three New York Times reviews, and 12 Michelin reviews. But it's still like clinging to the side of a mountain. The key to our survival is knowing we can get knocked off at any moment. If something isn't working at lunch, we fix it for dinner. If something isn't working at dinner, we fix it for lunch. There's never any break. With Philippe as my eyes and ears, I can travel the world, but I always keep an eye on Jean-Georges.
PV: The other thing to note is that we've built an intergenerational clientele. So the kids who came to JG with their parents are now coming in as adults. And their palates, refined by travel to Europe and Asia, are incredibly developed. On one hand, you never have to explain what squab is. On the other, they're much more finicky.
PS: There's no arguing that the real-estate market and regulatory environments have made it incredibly difficult to operate a successful restaurant in the city. But the key is to make constant, incremental changes. Over the last 20 years, for instance, we've only raised our lunch prices slightly. It's still only $38. Within that, we've still tried to maintain our margins while coping with the minimum-wage increases and rising food costs. Obviously, having a long-term lease vastly helps.
Where do you see Jean-Georges in another 20 years? Where do you see yourself?
JGV: I'll still be busting my ass.
PS: Me? I'm 75. I'll be in heaven.
JGV: And I'll bring lunch up to him.
PS: I'll be waiting. We can open a Jean-Georges up there.