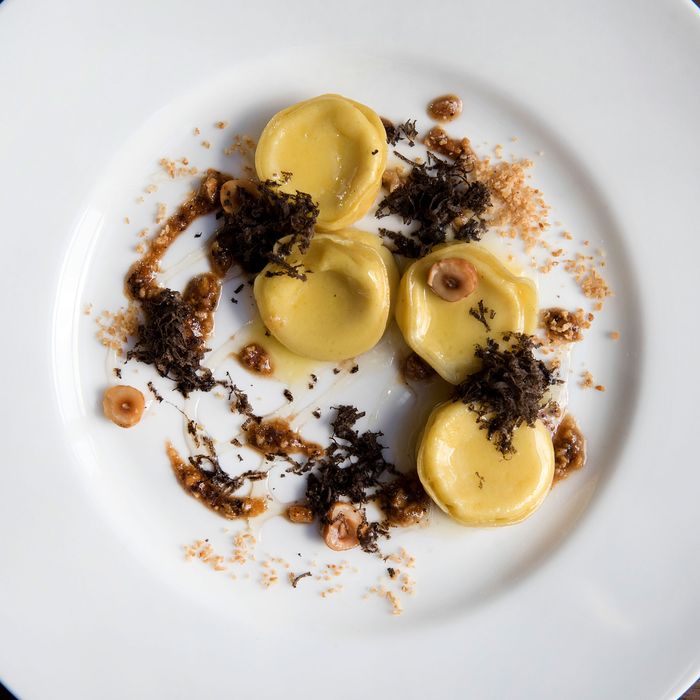 Tortelloni with castelrosso, hazelnut, and cardoon honey.
Photo: Liz Clayman
At first glance, there's not much about the deceptively sophisticated dining operation Italienne to distinguish it from the great rabble of nouveau Italianate joints that seem to open around this pasta-saturated town on an almost hourly basis. There's the slightly bland, lost-in-translation name (French for "Italian"), which manages somehow to sound less like a distinguished dining destination than the name of a corporate conference room in a midtown hotel. There's the location, in the anonymous canyons of the Flatiron District (in recent years, a kind of Bermuda Triangle for forgotten, well-meaning restaurants), and there's the numbingly familiar culinary setup, which includes a barrage of casual small plates, cheeses and charcuterie served in the "taverna" up front, and a high-minded tasting menu in the back, for those with the fortitude and cash to sit through another three-hour meal.
Italienne is designed to be two restaurants in one, and although both rooms, which are carved out of a predictably cavernous space on West 24th Street, don't add to the slightly foreboding sense of restaurant déjà vu, they don't entirely detract from it either. The taverna is appointed with rows of café-style tables topped with metal, presumably in the Italian-café style, and a long white marble bar decorated with cast-iron flower vases at either end and a row of weirdly large, fish-bowl-size filament lamps hanging from thick cords of rope overhead. The larger, more formal room in the back, which serves a $98 four-course tasting menu, features these oversize nautical-looking filament bulbs too, along with a state-of-the-art, glass-enclosed charcuterie-and-ham-cutting station, which looks like it's been transported from the set of a generic cooking show on Italian TV.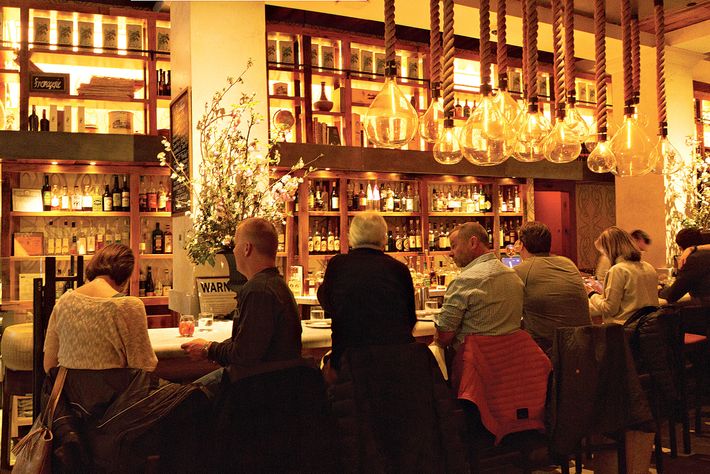 There was nothing generic about the contents of the charcuterie board I enjoyed on my first visit to the taverna, however, which included ribbons of ivory-colored lardo flown in from La Quercia, the famous salumi artisans in Iowa. There was nothing generic about the thin, toasty sourdough crostini, either, spread with ricotta and a layer of crushed Sicilian capers and olives, or the arancino, which my friend the Arancini Loon praised for its creamy fior di latte center and judicious saffron flavoring. The selection of stuzzichini ("small plates") at this Italian joint includes triangles of perfectly fried pork frittelle garnished with a sweet relish made of quince, and if you order the house rillettes, you'll find they're constructed with a delicate mash of crushed sea trout, instead of the usual duck or pork, and dressed with spring onion and a layer of crème fraîche.
The author of these unexpected pleasures is a peripatetic young chef named Jared Sippel, who comes to the big city by way of San Francisco and Boulder, Colorado. Sippel was supposed to open the Manhattan outpost of Chef's Table at Brooklyn Fare, but when that project was delayed, he came up with the idea of mingling Southern French technique with the earthy goodness of Northern Italian cooking. It's a concept that's fraught with all kinds of peril, but in the taverna menu, particularly, you can taste elements of these two worlds in almost every bite. I'm thinking of a little pot of cauliflower gratin bubbled with melted Comté cheese and a hint of black truffle, the Provence-style flatbread pizzettas (try the one dressed with cranberry preserves and crispy nuggets of prosciutto), and the salty leg of guinea hen, which the kitchen confits in the classic French way and serves over a bed of farro laced with green garlic.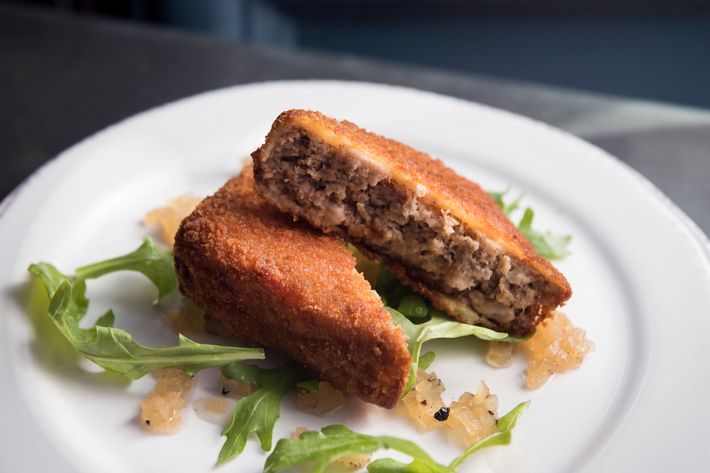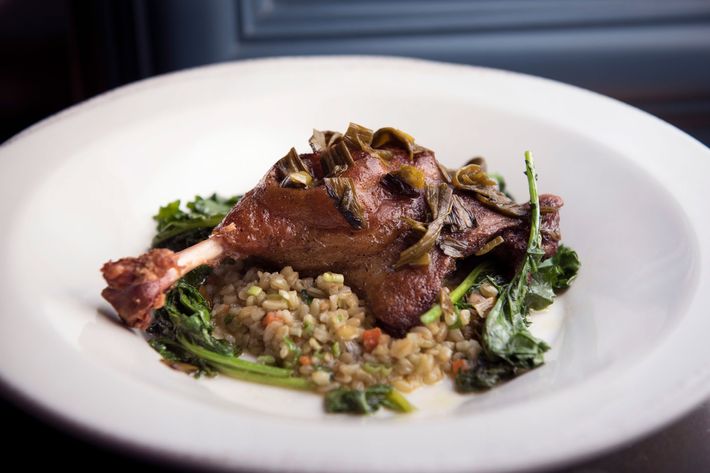 Sippel has a particular facility with bringing a kind of gourmet lightness to traditionally heavy pasta creations, and several of them, on both the taverna and the dining-room menus, are worth the fairly steep price of admission. Two Northern Italian dumpling specialties — knödel-style bread-and-cabbage canederli from the Italian Alps and plump, meat-stuffed casoncelli from Lombardy — are available in the taverna, garnished, respectively, with flakes of fresh horseradish and gouts of brown butter intermingled with curls of frizzled sage. The exceptional tasting-menu pastas include pouches of ravioli stuffed with lobster and crushed sweetbreads, tangles of fettuccine tossed with mushrooms, and decorous little servings of perfectly cooked macaroni poured with a creamy, faintly lemony sauce stuck here and there with bits of crunchy celery and nuggets of housemade pork sausage.
The four-course menu served in the larger (much emptier) back room at Italienne is shorter than the usual ponderous tasting affair, but the best dishes on it make you wish Sippel would focus on one genre of cooking, instead of trying to spread his considerable talents all over the block. Pastas aside, highlights of the tasting menu include a variety of expertly seared barnyard proteins (the sweetbreads, the duck) and a decorative sculptural arrangement of delicious fresh-baked fougasse, bought to the table hanging from a little hook. The desserts were less successful (a bizarre, Twinkie-shaped grapefruit vacherin; a modernist île flottante tasting vaguely of sawdust), so if they'll let you, call for a slice of lemon cake from the taverna, which is speckled with poppy seeds and spread with a thin layer of sugar frosting on top.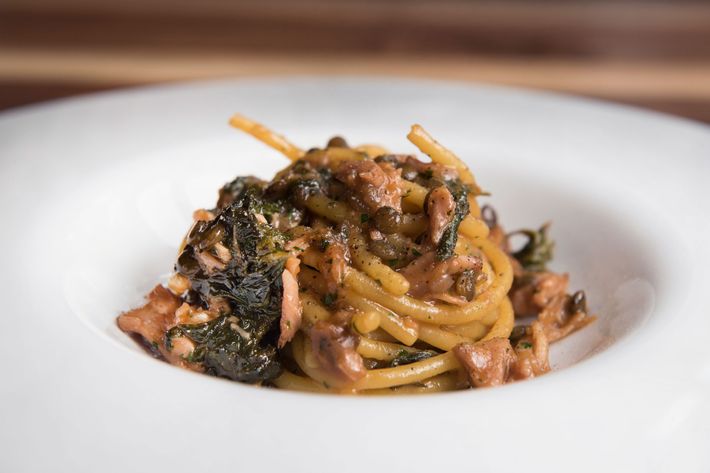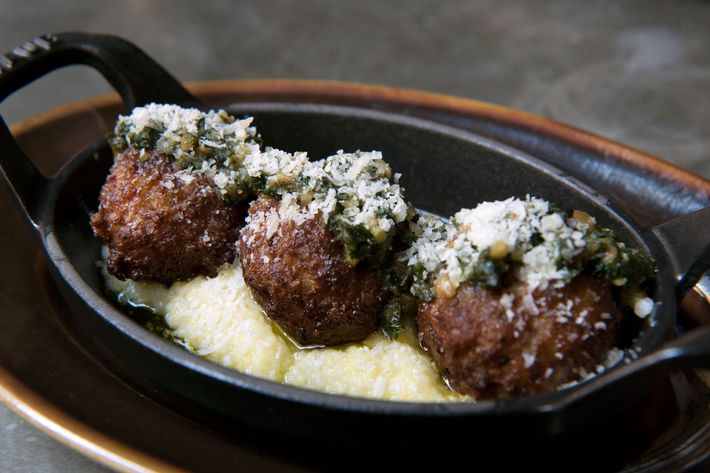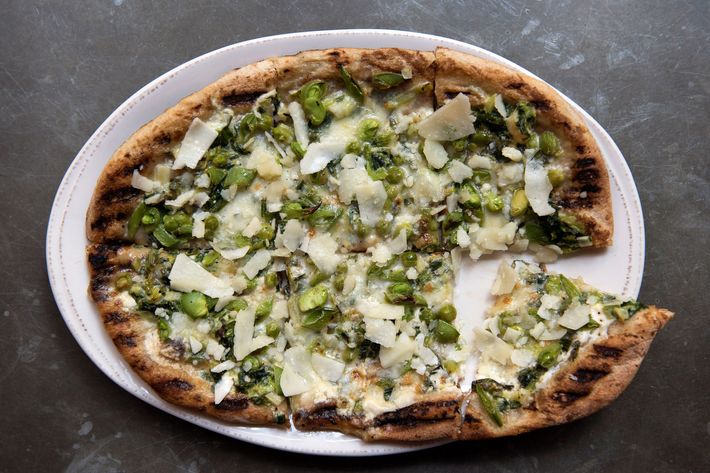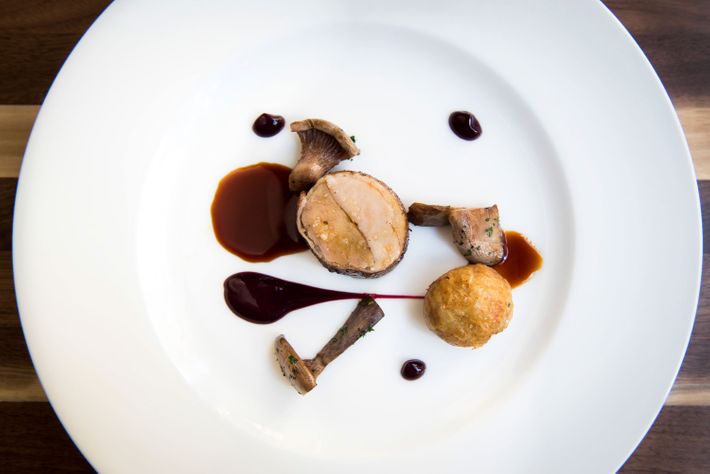 Italienne
19 W. 24th St., nr. Broadway; 212-600-5139; italiennenyc.com
Ideal Meal: Charcuterie and/or crostini, meatballs and/or pork frittelle, guinea hen confit, and lemon cake in the taverna, and any pasta you can get your hands on in the main dining room.
Note: The restaurant has two separate menus and two separate reservation systems, which can make for a bit of confusion.
Open: Dinner, Monday to Saturday; pastries sold at the bar weekdays, 8 a.m. to 1 p.m.
Prices: Taverna appetizers, $4 to $40; entrées, $15 to $33; dining-room tasting menu, $98.
Scratchpad: Three stars for the ingredients, service, and cooking technique. Minus a star for the prosaic space and confused, slightly unwieldy concept.
*This article appears in the April 3, 2017, issue of New York Magazine.