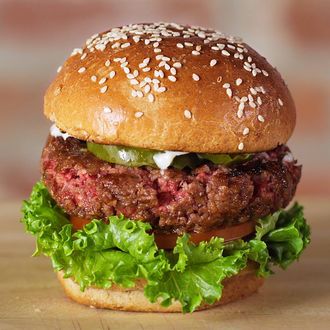 Coming at you.
Photo: Impossible Burger
Business really could not be better right now for Impossible Foods, the Silicon Valley start-up behind the 3-year-old "bleeding" veggie burger. This month, the meatless patty David Chang already serves at Momofuku Nishi made its chain-menu debut at Bareburger. Several West Coast chefs have added a version, too, and Bill Gates is even a big fan. But truth is, it's still unlikely anyone you know has actually eaten one (Beyond Meat has the start-up beaten in this area), and Impossible Foods says it's time that changed: It's unveiled an ambitious plan to bring the Impossible Burger to 1,000 restaurants by year's end.
This, of course, means mass-producing a product that started as a Stanford biochemist's side project. To hit that goal, the company is opening a factory the size of a Bay Area city block, CEO Pat Brown said yesterday during a press event from the new facility, which is located in an industrial part of Oakland. He told reporters it will pump out 1 million pounds of their wheat-potato-heme meat alternative every month. That's roughly 4 million Impossible Burgers — 250 times more than the company can currently produce at its Bay Area headquarters and East Coast production facility in New Jersey.
Brown says once running at full tilt, the factory should have enough capacity to supply grocery stores, and even expand the brand internationally. Although, at this point, why limit yourself to burgers: He adds that they're already deep into R&D for plant-based steak, chicken, seafood, and dairy products, too.