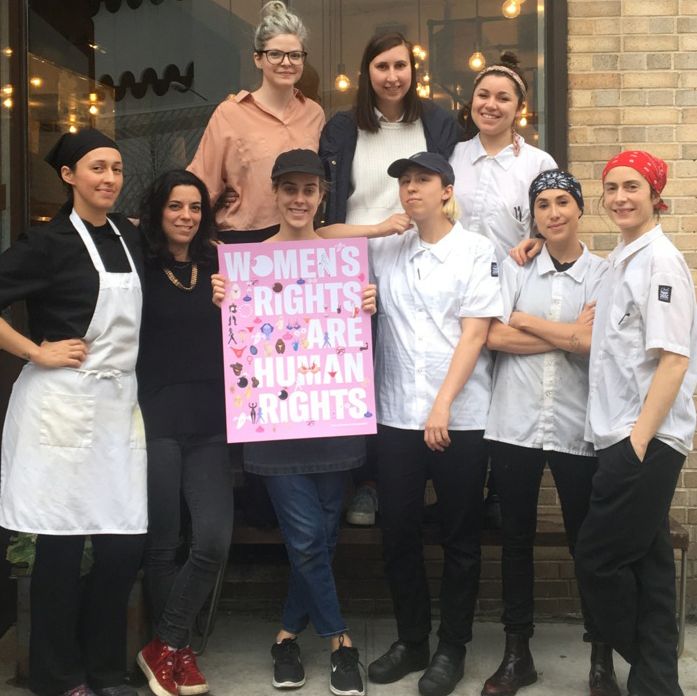 The Nourish Kitchen & Table team.
Photo: Courtesy of Nourish Kitchen Table
Today, on International Women's Day, women across America are striking for "A Day Without a Woman" — a one-day demonstration encouraging women to take the day off from paid and unpaid labor, and also to avoid shopping, with exceptions made for "small, women- and minority-owned businesses." While the strike extends to virtually all lines of work, the economic aspect directly impacts restaurants, especially those owned and staffed primarily by women.
Some owners are closing their restaurants; others are supporting the mission of the strike through fundraising. "It would be silly to strike when I'm a woman who owns a small business, especially one named Annisa [which means "women" in Arabic]," says chef-owner Anita Lo. "We are donating the proceeds from sales of the Annisa cocktail and a special appetizer created by Mary Attea, my chef de cuisine, to Off the Sidelines, Kirsten Gillibrand's organization to help women run for office." That appetizer is a spring pea soup with hearts of palm, snow crab, and tarragon.
Alex Raij is taking a similar approach at Txikito, El Quinto Pino, La Vara, and Tekoá, donating all proceeds from Montserrat (a red vermouth cocktail) and Navarran rosé (also red) to Planned Parenthood. She's supporting any staff members who want to take the day off.
One New York restaurateur is offering women paid time off to attend the rally: Mark Gibson, the owner of the Wren, has arranged for men to cover the shifts of all female staffers, and to wear red in solidarity. He's paying all the female salaried staff members their standard weekly rate, and hourly staff based on the hours they were originally scheduled to work. The women of the Wren plan to meet at the restaurant and march together.
Casellula, a wine-and-cheese bar in Hell's Kitchen, will also stay open without its striking female staff members, which include its general manager, head chef, and pastry chef. In their place, the restaurant will have a few guest servers, like Broadway performer Matthew Scott, and they'll donate all their tips to Shining Hope for Communities.

A collective of mostly women-owned dessert concepts is banding together to donate a portion of today's profits to Girls Rising — Blue Marble Ice Cream, One Girl Cookies, La Newyorkina, Ample Hills Creamery, Megpies, and the Good Batch. (This is actually a formal group called Sweet Up, and they meet up to talk shop regularly.) Butter & Scotch will close between 3:30 and 8 p.m. so its "ragtag team of feminists" can attend the rally, and then open afterwards for a party, donating $2 of each "Winter of Women" cocktail to Planned Parenthood.
Mah-Ze-Dahr owner Umber Ahmad is keeping the doors of her bakery open, because, "For us, every day is Women's Day." She hopes that New Yorkers use their purchasing power to support female-owned businesses. "As a woman entrepreneur and business owner, I don't have a choice about whether to stay home today or not, because my company, my employees, and my customers depend upon me doing my job. Rather than opt out of working, I'm choosing to participate in commerce as a way to support other women. I hope many women today will come out and support women's integral role in society, by showing up at the doors of all women-led businesses. If our women on staff choose to protest today instead of come to work, all I hope is that they realize the impact they are having on the reality of women in this world, especially those who stand by them every day."
At Nourish Kitchen & Table, Marissa Lippert is selling "Watergate Cake with Impeachment Frosting" — a new pastry that's a riff on a historic recipe, with pistachio cake, mascarpone cream, and pistachio brittle — and donating a portion of the proceeds to the Women's Center for Education and Career Advancement. "While we'll be doing business as usual, we'll be busting ass because that's what we do best — our kitchen is 75 percent women," she says.
Grub Street will continue to update this post throughout the day.