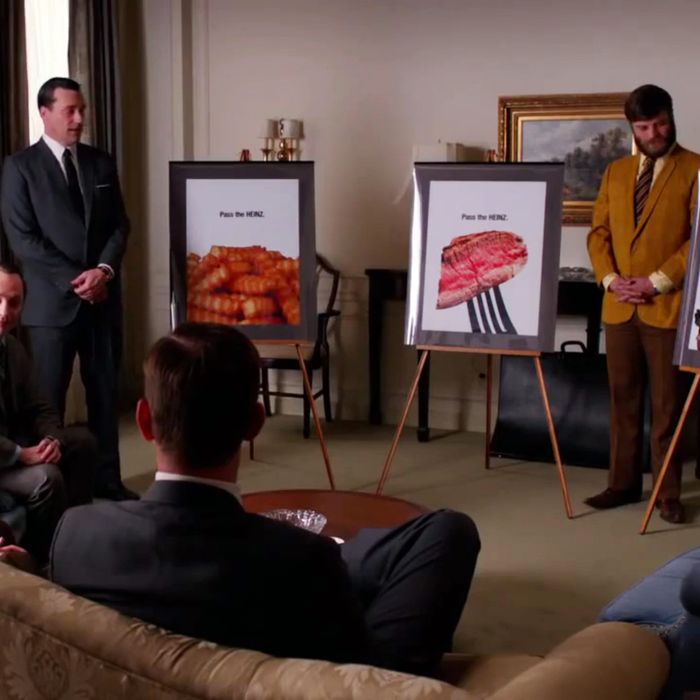 Don telling Heinz that the consumer has to meet them halfway.
Photo: AMC
In season six of Mad Men, there's an episode where Don Draper gives Heinz an unusual ad pitch — sell ketchup by showing mouthwatering pics of the food it goes with, but not the condiment itself. He proposes the slogan "Pass the Heinz" (as in: what any reasonable human would say if confronted by naked French fries). But the fictional Heinz executives don't see Don's idea as visionary, so he doesn't get the account.
Well, Heinz has had half a century in Mad Men years to stew on that decision, and it's finally admitted that those suits made the wrong choice. In a move sure to excite fans of the show, Heinz is running all three of Don's ads. They've even been credited to Sterling Cooper Draper Pryce — alongside the real-life ad agency David Miami, of course, which had to whip these up from scratch, yet make them match Don's exactly.

It appears they got pretty close: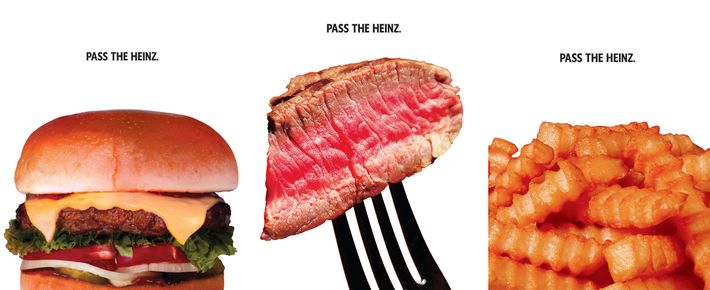 Each one appears on its own New York City billboard starting today — one at Seventh Avenue and 49th Street; another on Tenth Avenue by the Lincoln Tunnel entrance; and a third on 23rd Street near the High Line park. Variety will get the fries ad, saving those readers from the steak shot.