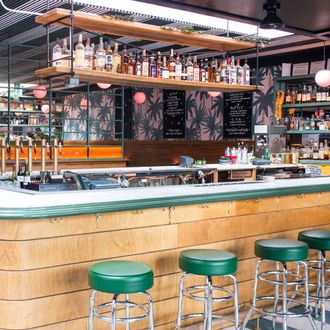 His "saddest hour" occurred here.
Photo: Christina von Messling
A man from Philly claims he now suffers from "severe emotional distress" after a Manhattan bar kicked him out for wearing a "Make America Great Again" hat. Greg Piatek, a 30-year-old accountant, says he was refused service multiple times when he and two friends stopped by the Happiest Hour on January 28. Per the lawsuit he's filed, Piatek says he got his first jalapeño margarita without a problem. But when his crew went back for a second round, the bartender gave him "a lengthy death stare," then took their order, but "slammed the drinks down" once he brought them back over.
According to Piatek, this was merely the beginning — things were about to get "really sad." He claims another bartender called Trump "so terrible," added that Piatek was equally "as terrible a person!" and then warned: "Don't even try to order from me. I won't get you a drink." The suit says eventually a manager came over and explained, "Anyone who supports Trump or believes what you believe is not welcome here. And you need to leave right now because we won't serve you!" (Trump-style fondness for exclamation points all in the original.)
The ordeal was in fact Piatek's "saddest hour," the complaint claims, and he even called NYPD. The officers who showed up reportedly told him the incident wasn't really a criminal matter, so he should try taking it to somebody like the Better Business Bureau. He adds that they were "sympathetic, accepting, and understanding" officers, regardless, and that as they left, he "thanked them for their service."
Piatek is seeking unspecified damages for the incident. His attorney tells the New York Post that the values the Happiest Hour employees displayed that day were "not the values of our nation. Our nation values acceptance and democracy. It seems to me that The Happiest Hour, however, values hypocrisy."

Sources