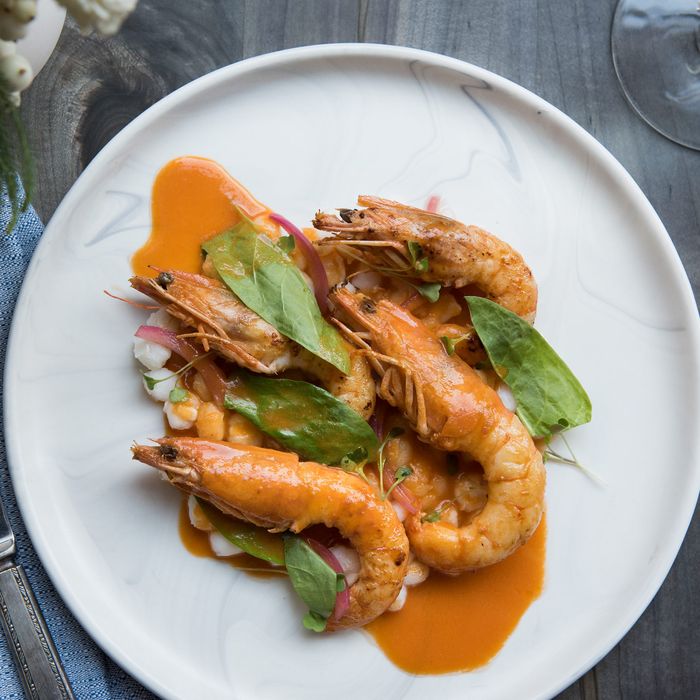 Whole shrimp with hominy and Cortez sauce.
Photo: Liz Clayman/Liz Clayman
Hell's Kitchen has a veritable buffet of restaurants, but when it comes to quality, the neighborhood has — for a while now — been lacking. A few standouts like Gazala Place are peppered among what are mostly takeout spots and pretheater crowd haunts. And while there are veritable higher-end restaurants like Danji, Esca, Ardesia, and Casellula, the scene isn't exactly crowded. It's exciting news then that two alums of Contra, one of New York's most of-the-moment restaurants, will open their first restaurant, Gloria, there tomorrow night.
Partner and general manager Phil Johnson first met chef-partner Diego Garcia while opening Aldo Sohm, the wine-bar spinoff of the seafood institution Le Bernardin. Garcia was then a sous-chef at Le Bernardin, where he had worked for four years, and Johnson was fresh off a serving gig on the opening team at Contra. Quick friends, they were soon plotting to open their own. When Johnson received a call asking if he'd like the GM gig at Contra, he took the gig and brought Garcia along — and the plotting only thickened. "It was definitely important to see if I could work with him 12 hours a day without killing him," Johnson jokes. "We get along great."
Having decided they would, in fact, not kill each other, the duo went about opening Gloria with business partner Leland Meibeyer. Garcia has put his training (and childhood spent in coastal Durango, Mexico, and Napa) to good use, with a menu that's exclusively pescatarian. While many of New York's fishiest restaurants may serve their sea creatures with meat, Gloria won't serve a round of chorizo. Instead, the squid comes with peas and edamame, and while the cooking is not expressly Mexican, ingredients like tomatillo (served with the skate wing) do pop up. They're also focusing strictly on fish from the Eastern Seaboard, a restraint that's resulted in uncommon dishes, like a strikingly pink tartare made of the invasive lionfish. Broadly, they'll be taking an Estela-esque approach by keeping the proteins while fiddling with the garnishes.
Given that Contra and its sister-restaurant, Wildair, are among the city's premiere destinations for natural wine, it makes sense that Johnson, who will handle drinks, is a believer. His wine menu is au naturel, and is similarly restrained in that it's all French and Napa vintages. Beer won't be neglected, and he'll serve Northeast breweries like Other Half and Oxbow, emphasizing ones that pair well with seafood. Down the line, there will be paletas and a tres leche–esque dessert, but for now, it's all cheese with a little bit of showmanship. "I was really impressed with how Le Coucou does it," Johnson says. "Gloria's dining room is way too small for pushing a cart around, but I do love the show of bringing some stinky cheeses out to display."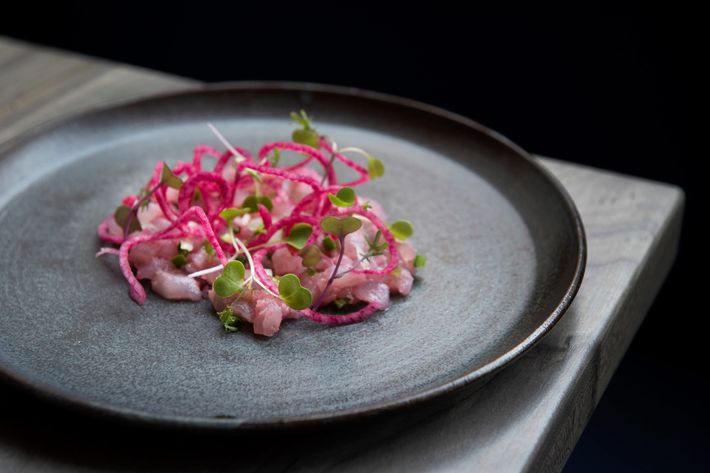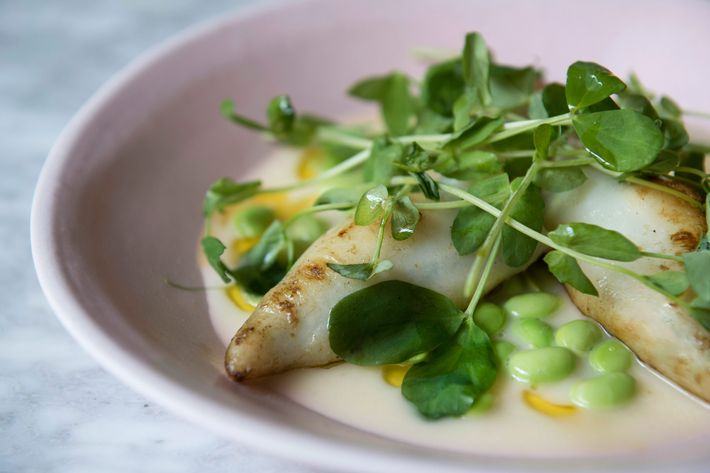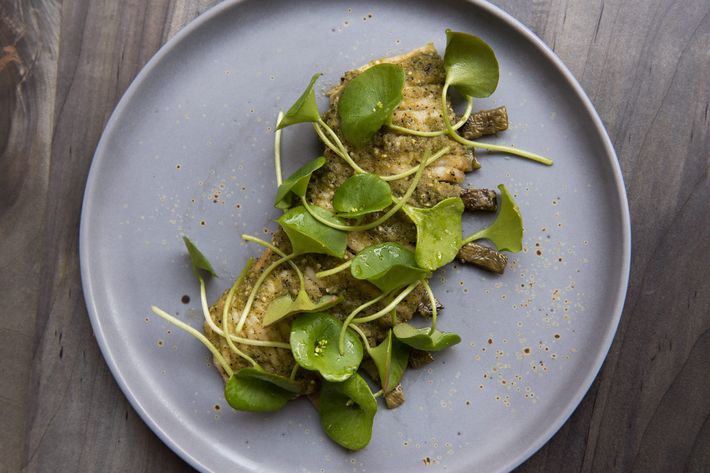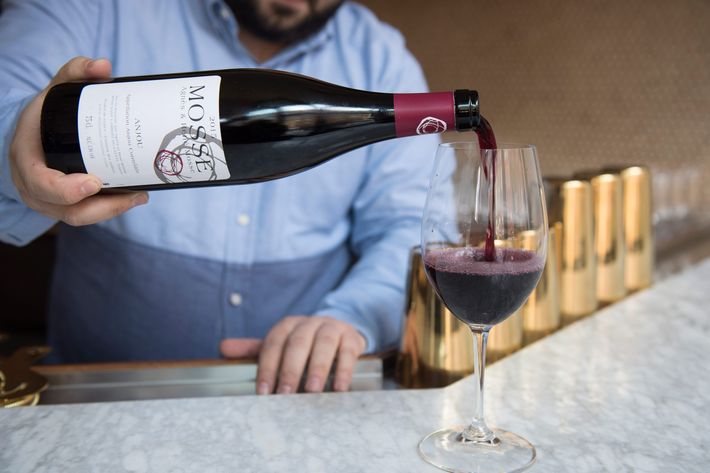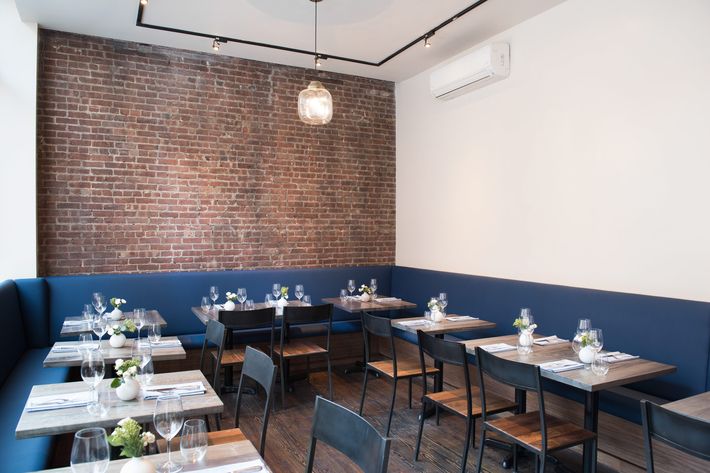 Food Menu [PDF]
Gloria, 401 W. 53rd St., nr. Ninth Ave.; 212-956-0709