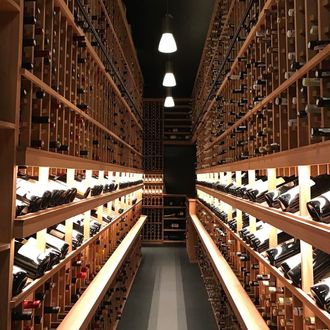 The renovated cellar has made a few upgrades.
Photo: The French Laundry
A federal judge has sentenced wine-thief extraordinaire Davis Kiryakoz to 15 months in prison for looting $550,000 worth of bottles from the French Laundry in 2014. He and an accomplice broke in and absconded with 110 different bottles from Thomas Keller's flagship restaurant while it was closed for refurbishment, several of which (Domaine de la Romanée-Conti vintages, a Screaming Eagle Cab) were worth small fortunes by themselves. In the end, most were recovered, but the U.S. Attorney's office says Kiryakoz has still been ordered to pay almost $600,000 in restitution.
After stealing the wines, he delivered 63 of the bottles across state lines to a North Carolina buyer (high-end wines don't sell themselves), but the individual returned them unopened once he learned of the theft. Kiryakoz also admitted he and his partner Alfred Georgis pilfered wine from other spots — they snatched 142 bottles from a San Francisco wine merchant the previous year, and got 39 more from Alexander's Steakhouse, another Napa Valley restaurant, in the months before the Christmas Day heist at French Laundry. Kiryakoz had asked the judge for probation, saying he was remorseful and needed to take care of his ailing mother. Georgis hasn't been sentenced yet, but he's due back in court in May.