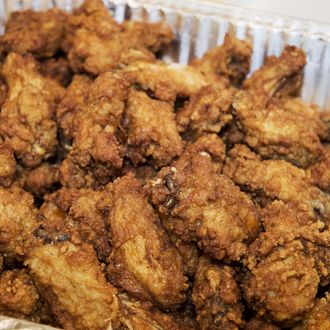 No mystery in this meat.
Photo: Paul J. Richards/AFP/Getty Images
Despite your Facebook News Feed saying otherwise, the FDA wants to make it crystal clear that the chicken wings everybody ate during this year's Super Bowl were not secretly made of rat meat. Stories reporting the claim, however absurd on its face, started popping up in early February before the game; but the thought apparently so deeply horrifies people that the stories keep getting shared — enough for the FDA to now step in with an official statement saying that, no, it did not in fact seize 300,000 pounds of imported rat meat from China just days before Super Bowl Sunday. Nor did the agency ever issue a warning, they add, saying restaurants and grocery stores might be unknowingly selling rat-meat chicken wings.
The original stories claimed that customs agents in San Francisco had confiscated "several" containers of counterfeit wings, but that plenty more "might still be in circulation and could finish in American plates during the Super Bowl this Sunday." They quote made-up FDA officials (Ronald Jones and Allen James — John Smith must have had the day off), who effectively advised that all of carnivorous America was screwed that weekend, since, unfortunately, it was "too late for the produce that has already been sold on the market. It is up to consumers to try to identify the quality and source of the meat that is packaged, but there is no absolute way of determining for 100% if the meat in your plate is chicken or rat."
The report's origins were a satirical site called World News Daily Report, where the story was posted before gravitating to other highly reputable-sounding news sites like Urban Image Magazine. "Morgue Employee Cremated by Mistake While Taking a Nap" is the top story right now on WNDR's homepage, a favorite target of Snopes fact-checkers. Other past stories include one about a 14-year-old girl impregnated by a flu shot, and a lottery winner who died after gold-plating his testicles.