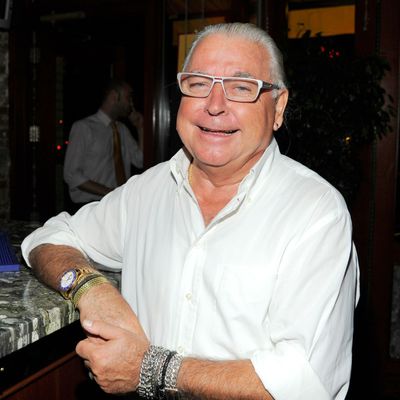 Silvano Marchetto.
Photo: Patrick McMullan
Former New York restaurateur Silvano Marchetto was mugged earlier this week by two robbers, one of whom choked him so hard that his trachea was fractured. The incident occurred in the lobby of Marchetto's downtown apartment building at 12:30 a.m. on Sunday, which was — until December — the home of his former celebrity hot spot Da Silvano.
Footage released by the NYPD yesterday shows the suspects walking together before stalking Marchetto. The two then followed the restaurateur into his building, where one put him into a choke hold while the other stole his wallet. According to the police, who are still looking for information on the perpetrators, they made off with $1,800 in cash and foreign currency.
The New York Post originally reported in a subsequently deleted article that Marchetto oddly elected to post a photo of a beef taco from Black Ant on his Facebook, instead of calling the police. However, that photo was posted on Saturday at 2:12 a.m., nearly 22 hours before the attack.

In reality, Marchetto took himself to the Lenox Health Greenwich Village emergency department, and was then transferred Sunday night to the Lenox Hill Hospital on the Upper East Side. In an interview with the New York Daily News earlier this week, he said he was still in pain.
Before closing in December, Marchetto's restaurant Da Silvano helped introduced Northern Italian food to New York, but it became better known in its later years as paparazzi bait, and for its years-long feud with next-door neighbor Bar Pitti. The spaghetti fight got so heated that when a smoke bomb was tossed into Pitti in 2014, a Da Silvano manager publicly swore that they were not behind it.