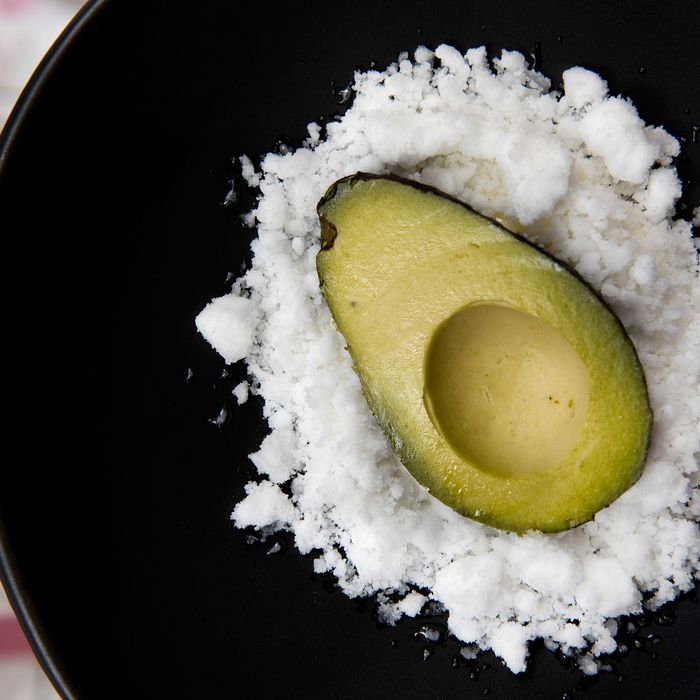 Don't trust your eyes!
Photo: Liz Clayman
Chef Alex Stupak is currently best known for his trio of Empellón restaurants in downtown Manhattan, but before getting into the taco business, he was a pastry chef known for boundary-pushing creations served first at Chicago's Alinea, then at (the now-closed) wd~50 in New York. Given that, it's not surprising that the menu at his latest Empellón restaurant, scheduled to open next week, features a tropical trompe l'oeil. This dessert, which looks like a plain old avocado on a bed of ice, is, in fact, not what it appears to be.
To make it, Stupak and pastry chef Justin Binnie freeze avocado parfait in a silicone mold to recapture its original form. Once it's thoroughly frozen, Binnie airbrushes it to make it look as real as possible. Served with eucalyptus yogurt, olive oil, and lime granita, it will certainly offer something unexpected, while still seeming familiar to Stupak's longtime fans. "Avocado, eucalyptus, and lime — surely that could be a description on a wd~50 menu," Stupak says. The dessert is also one more clever example of Stupak's desire to make food that's smart, but still immediately appealing.
Though the Empellón empire has grown downtown, Stupak's latest outpost will open in midtown. On March 23, he'll open the two-floor, 174-seat operation, which is simply called Empellón, and which will serve as the newly minted flagship. (It's also, the chef says, going to be his last opening in New York for a while, if not forever — though never say never.)
There are a few familiar tacos on the new menu, which Stupak created with executive chef Colin King and chef de cuisine Duncan Grant, but it largely represents an evolution of his style. To that end, there are sticky-rice tamales, fideos with peas and cotija añejo, and tacos with hash browns and tomatillo ketchup, as well as chicken guisado with ají dulce.
Just as he's started playing with North African flavors downtown, and looking at the "similarities between Indian cuisine and Mexican cuisine," the chef is also dipping his toes here into the Tex-Mex and Mexican-American cannon. There are those sea-urchin "nachos" you've heard about, and also a flowery riff on the taco salad made with a chicharrón "bowl." There are also fajitas, served as sizzling plates of high-grade, Japanese A5 Kobe strip steak with a mess of onions and peppers. In place of steak sauce, it's served with a mole negro that derives all of its heat from a variety of peppercorns.
As mentioned, the restaurant is currently scheduled to open next week. In the meantime, check out the dishes and the space, as well as the all-day and dessert menus, right here.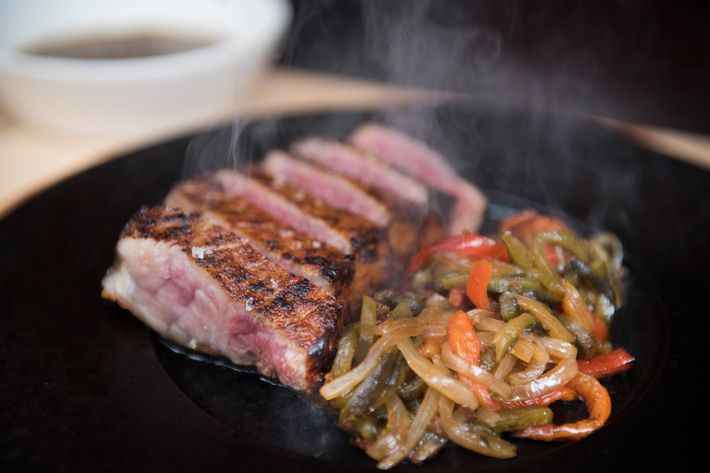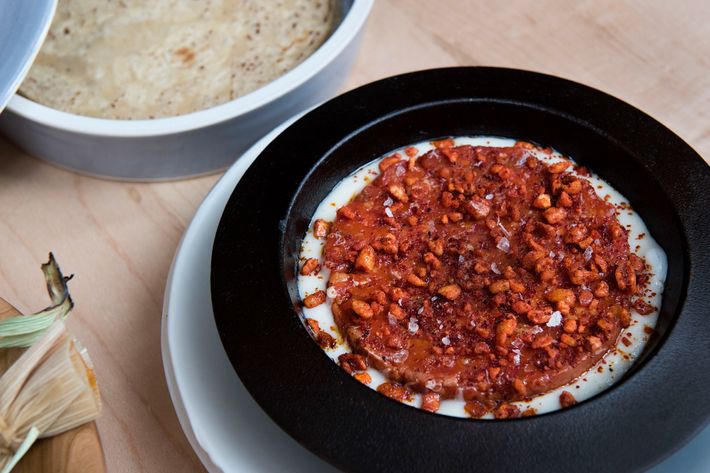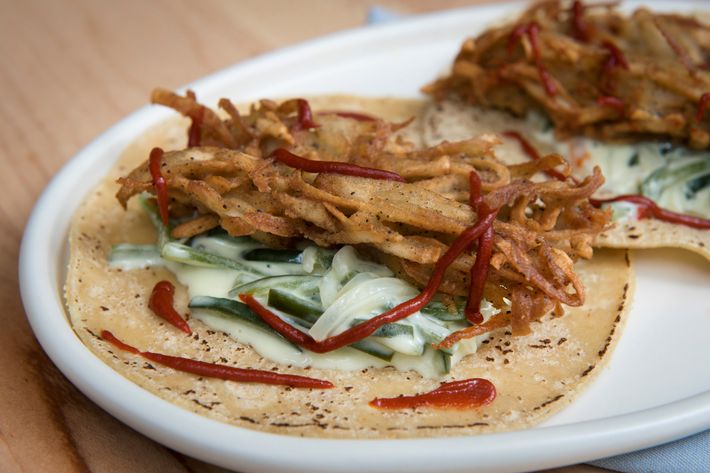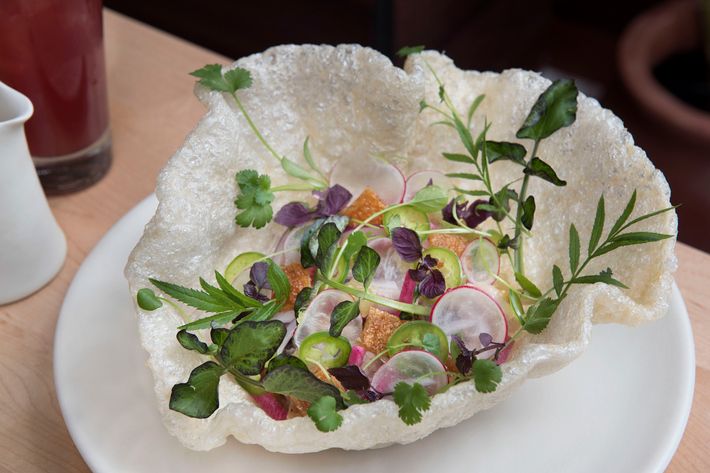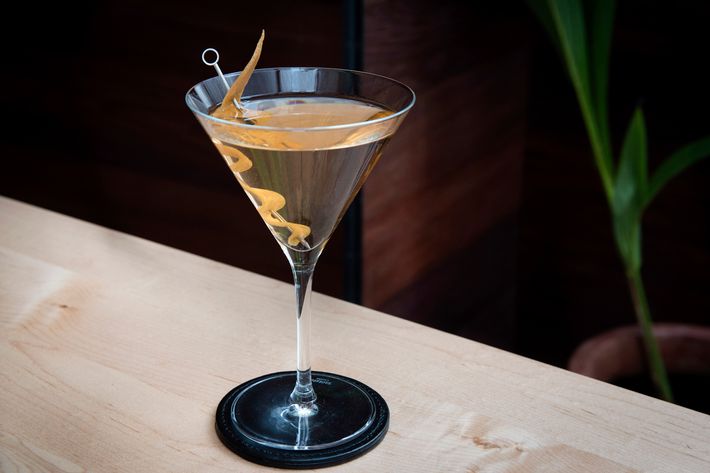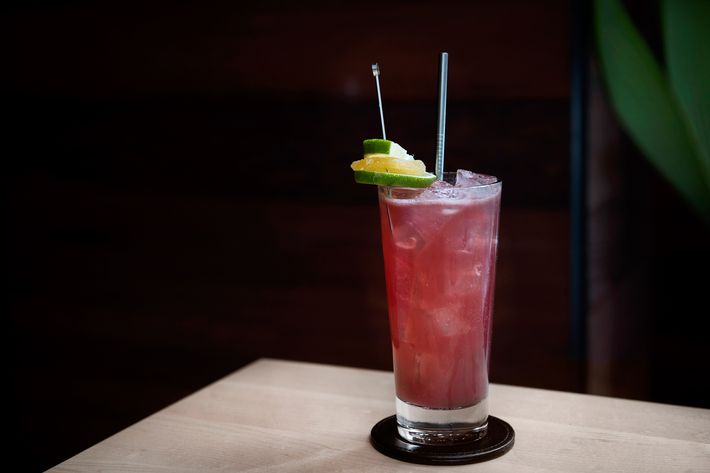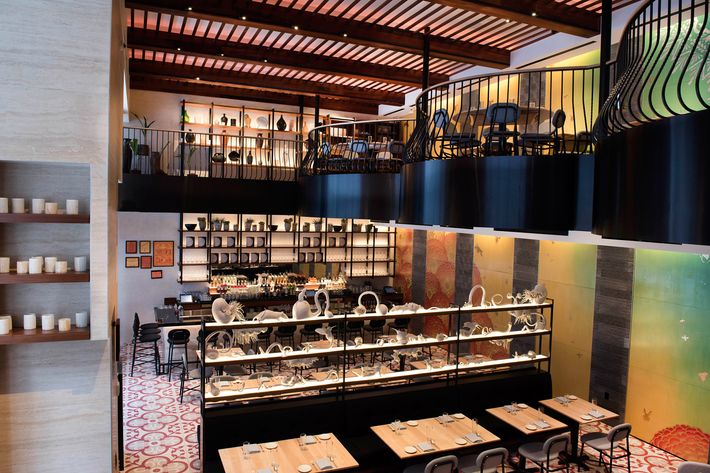 Empellón, 510 Madison Ave., at 53rd St.; 212-367-0999