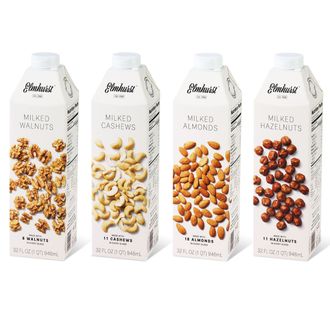 Somewhat unexpected.
Photo: Elmhurst
Last fall, New Yorkers got the sad news that the city's very last dairy plant was headed for the big pasture in the sky. Elmhurst Dairy, as it was known, was a century-old company whose milk could be found everywhere from Manhattan Starbucks cafés to 1,400 different public schools citywide. Until August, products were bottled for 80 years at the same facility in Jamaica, Queens. But as CEO Henry Schwartz told the New York Times at the time, the family-owned operation wasn't profitable anymore, and their plant had stayed open "long past the years that it was economically viable" — mostly because he'd promised his dad it would. More depressing, though, at least from a dairyman's perspective, was what he said about his product: that "milk has sort of gone out of style."
In hindsight, maybe that wasn't so depressing after all? Elmhurst (officially now without the "Dairy" part) has suddenly reemerged as, of all things, a producer of vegan nut milks. It quietly debuted four varieties — almond, hazelnut, cashew, and walnut — at the Natural Products Expo in Los Angeles two weeks ago:


Coincidentally, milk sales have been tanking in the U.S. for a while, so it's hard not to read something deeply symbolic into this switch. Elmhurst's redesigned site even offers an "Our Story" tab — sort of a paean to its past — that starts:

In the 1900s, New York City looked a lot different than it does today. Taxi cabs were still horse-drawn, and much of Manhattan remained covered in farmland. This is why it is fitting that the Elmhurst story begins with a small herd of cattle.
Of course, "Manhattan farmland" sounds hilarious now, and it looks like Elmhurst thought continuing to run a New York City dairy company in 2017 does, too. It brags its new nut milks are GMO- and gluten-free, kosher, minimally processed, sustainable, produce little food waste, contain no additives, and pack in more nutrition using a proprietary cold-milling technique.